Surgical resection of chordoma of the sacrum (program ID:

217257

)
Hirslanden Clinic Belair Schaffhausen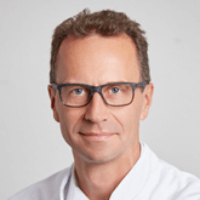 Head Physician
Dr. med.
Kai-Uwe Lorenz
Specialized in: orthopedics, traumatology
Department of Orthopedics and Traumatology
Program includes:
Initial presentation in the clinic
clinical history taking
physical examination
review of medical records
laboratory tests:

complete blood count
general urine analysis
biochemical analysis of blood
TSH-basal, fT3, fT4
tumor markers
indicators of inflammation
indicators blood coagulation

CT/MRI scan of the sacrum
biopsy and histological examination
preoperative care
resection of tumor
histologically and immunohistochemically examination of the removed tissues
symptomatic treatment
control examinations
the cost of essential medicines and materials
nursing services
full hospital accommodation
explanation of future recommendations
Required documents
Medical records
MRI/CT scan (not older than 3 months)
Biopsy results (if available)
Service
Price:
Type of program :
Expected duration of the program:
You may also book

Price:
About the department
Orthopedics offers a variety of methods (conservative and surgical) for the treatment of diseases of the musculoskeletal system, including muscles, cartilage, and tendons. Our doctors are experienced professionals. They work in an inpatient unit in the Klinik Belair of the Hirslanden Group and offer a full range of orthopaedic surgery at the highest level. Orthopaedic surgery deals with diseases of the shoulder and elbow, hand joints, hip, knee and foot, as well as the spine.
High concentration of expertise and resources enables valuable synergy for holistic treatment of our patients. To this end, the unique specialized center for orthopaedic surgery, which offers individual treatment and free choice of doctors, was established in the municipality of Schaffhausen. The goal of Klinik Belair orthopaedics and orthopaedic surgery is to meet your needs and ensure your good health.
Curriculum vitae
2007 - 2009 Oberarzt Klinik für Orthopädie und Traumatologie, KS St. Gallen, Prof. Dr. M. Kuster
2005 - 2007 Oberassistenzarzt, Orthopädie und Traumatologie, KS St. Gallen, Prof. Dr M. Kuster
2004 - 2005 Fellowship Traumatologie und Forschung, Fremantle Hospital, Perth, Australien
1999 - 2004Assistenzarzt, Orthopädie und Traumatologie, KS St. Gallen, Prof. Dr. A. Gächter
1998 - 1999 Assistenzarzt Klinik für Neurochirurgie, KS St. Gallen, Prof. Dr. G. Hildebrandt
1998 - 1998 Assistenzarzt, Praxis Dr. Salzmann, Saas Fee
1997 - 1997 Assistenzarzt, Klinik für Chirurgie, Kantonsspital Glarus, Dr. med. H. Blessing
Photo of the doctor: (c) Hirslanden AG
---
About hospital
Accommodation in hospital
Sacral chordoma
Program [Description]
Surgical resection of chordoma of the sacrum
Hospital: Hirslanden Clinic Belair Schaffhausen
Type:
Duration:
Price:
date_range
There are 106 sacral chordoma treatment hospitals on Booking Health website
Show all clinics
Certificates