ERCP for obstruction of bile duct obstruction with endoscopic bougienage and stent implantation (program ID:

56077

)
Hirslanden Clinic Belair Schaffhausen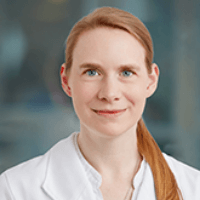 Head Physician
Dr. med.
Claudia de Rossi
Specialized in: internal medicine
Department of Internal Medicine
Program includes:
Initial presentation in the clinic
clinical history taking
physical examination
review of medical records
laboratory tests:

complete blood count
general urine analysis
biochemical analysis of blood
TSH-basal, fT3, fT4
indicators of inflammation (CRP, ESR)
indicators blood coagulation

abdominal ultrasound
CT/MRI abdomen
ERCP with endoscopic bougienage and stent implantation
symptomatic treatment
control examinations
the cost of essential medicines and materials
nursing services
nutrition recommendations
full hospital accommodation
explanation of future recommendations
Required documents
Medical records
Abdominal ultrasound (if available)
Abdominal MRI/CT scan (if available)
Service
Price:
Type of program :
Expected duration of the program:
You may also book

Price:
About the department
A Therapist, a specialist in internal medicine, has very broad medical knowledge about diseases suffered by adolescents, adults and older people. In addition, the therapist may offer a complete physical examination, which will help to identify disease at an early stage.
Complete physical examination is carried out using the most modern equipment and a high level of quality control. The therapist knows all common methods of examinations (e.g., blood and urine tests, x-ray) and can recommend exactly the method that is necessary in every individual case. Based on the results, the therapist selects the appropriate method of treatment. If the patient suffers from any chronic illness, the therapist can visit him at home, even for a long time. The therapist may also perform minor surgeries, such as stitching tissues under local anesthesia. For special treatment, the internal medicine physician will refer his patients to specialized doctors with the appropriate level of knowledge.
In many cases, specific knowledge of the specialist of internal medicine is the basis for further training in various fields, such as cardiology, rheumatology or gastroenterology.
Curriculum vitae
Nov 2015 Fachärztin Allgemeine innere Medizin Praxiszentrum am Bahnhof, Schaffhausen
Jan 2014 - Okt Gründung der Praxis Dr. med. Claudia de Rossi
Nov 2009 - Dez 2013 Angestellte Ärztin in der Praxis Dr. med. Pia de Rossi
Nov 2009 - Okt 2011 Ärztin in der Klinik für Geriatrie, Bethanien-Krankenhaus, Heidelberg
Nov 2008 - Okt 2009 Teilnahme am ärztlichen Bereitschaftsdienst in Hessen, Notdienstzentrale Rüsselsheim
Apr 2008 - Okt 2009 Weiterbildungsassistentin in der Praxis Dres. med. Oster und Heyse, Hofheim
Jun 2005 - Apr 2008 Assistenzärztin in der ll. Medizinischen Klinik (Kardiologie), GPR-Klinikum Rüsselsheim
Jul 2004 - Mai 2005 Assistenzärztin in der Abteilung für Thoraxchirurgie, Dr.-Horst-Schmidt-Kliniken, Wiesbaden
Dez 2002 - Jun 2004 Ärztin im Praktikum (AIP) in der Abteilung für Viszeral- und Gefässchirurgie, Krankenhaus Salem, Heidelberg
Photo of the doctor: (c) Hirslanden AG
---
About hospital
Accommodation in hospital
Bile duct obstruction
Program [Description]
ERCP for obstruction of bile duct obstruction with endoscopic bougienage and stent implantation
Hospital: Hirslanden Clinic Belair Schaffhausen
Type:
Duration:
Price:
date_range
There are 93 bile duct obstruction treatment hospitals on Booking Health website
Show all clinics