Surgical resection of chordoma of the sacrum (program ID:

215033

)
Hirslanden Clinic Birshof Basel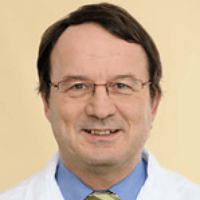 Head Physician
Dr. med.
Dieter Leu
Specialized in: general surgery
Department of Orthopedics and Traumatology
Program includes:
Initial presentation in the clinic
clinical history taking
physical examination
review of medical records
laboratory tests:

complete blood count
general urine analysis
biochemical analysis of blood
TSH-basal, fT3, fT4
tumor markers
indicators of inflammation
indicators blood coagulation

CT/MRI scan of the sacrum
biopsy and histological examination
preoperative care
resection of tumor
histologically and immunohistochemically examination of the removed tissues
symptomatic treatment
control examinations
the cost of essential medicines and materials
nursing services
full hospital accommodation
explanation of future recommendations
Required documents
Medical records
MRI/CT scan (not older than 3 months)
Biopsy results (if available)
Service
Price:
Type of program :
Expected duration of the program:
You may also book

Price:
About the department
Hirslanden Klinik Birshof deals with any orthopedic or traumatologic emergency cases (all urgent cases involving the musculoskeletal system). The entrance into Orthopedic Emergency Care Center can be found on the right of the main entrance to the hospital. You can park directly in front of the entrance and use the elevator to get right in the Orthopedic Center.
For life-threatening cases, you can dial official number 144 at any time to call for professional help. At your request, you can be taken to the Klinik Birshof upon appropriate indications of orthopedic/traumatologic injuries. Orthopedics deals with the locomotor system: all the bones, joints, muscles, tendons, and ligaments. Disorders of these parts of the body can be congenital or acquired as a result of the disease. Traumatology deals with injuries of musculoskeletal system associated with the accidents.
Photo of the doctor: (c) Hirslanden AG
---
About hospital
Accommodation in hospital
Sacral chordoma
Program [Description]
Surgical resection of chordoma of the sacrum
Hospital: Hirslanden Clinic Birshof Basel
Type:
Duration:
Price:
date_range
There are 106 sacral chordoma treatment hospitals on Booking Health website
Show all clinics