Duodenal ulcer diagnosis (program ID:

96819

)
Hirslanden Clinic La Colline Geneva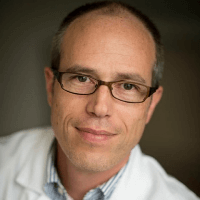 Head Physician
Dr. med.
David Bertolini
Specialized in: gastroenterology
Department of Gastroenterology
The program includes:
Initial presentation in the clinic
clinical history taking
review of medical records
physical examination
laboratory tests:

complete blood count
biochemical blood test
inflammation markers (CRP, ESR)
blood coagulation analysis (aPTT, PT, INR)

ultrasound of the abdomen
gastroscopy (with biopsy, if clinically indicated, additional cost is 2500€)
H.pylori test
nursing services
consultation of related specialists
treatment by chief physician and all leading experts
explanation of individual treatment plan
Required documents:
Medical records
Esophagogastroduodenoscopy (EGD) (if available)
Service
Price:
Type of program :
Expected duration of the program:
You may also book:

Price:
About the department
The Department of Gastroenterology at the Hirslanden Clinic La Colline Geneva offers all the options of modern medicine for the diagnostics and treatment of diseases of the gastrointestinal tract. The department admits patients with diseases of the esophagus, stomach, small and large intestine, liver, pancreas and gallbladder. The department employs highly skilled gastroenterologists who work for the benefit of patients and have at their disposal advanced medical equipment to timely detect the slightest pathological changes in the anatomical structures of the gastrointestinal tract. The Chief Physician of the department is Dr. med. David Bertolini.
The department's range of medical services includes:
Diagnostic and therapeutic endoscopy (gastroscopy, colonoscopy)
Diagnostics, monitoring and treatment of esophageal diseases (gastroesophageal reflux disease, Barrett's esophagus)
Screening, diagnostics and treatment of benign and malignant colon tumors
Diagnostics of motor and functional gastrointestinal disorders using high-resolution imaging equipment
Esophageal manometry
Anorectal manometry
Esophageal impedance pH monitoring
Capsule endoscopy
Modern endoscopic imaging techniques (for example, chromoendoscopy)
Endoscopic resection of the mucous membrane of various sections of the gastrointestinal tract
Endoscopic retrograde cholangiopancreatography (ERCP)
Endosonography (staging, examining the pancreas and gallbladder, diagnostic puncture for injuries of the abdomen and mediastinal organs)
Small intestine examination (balloon enteroscopy, capsule endoscopy)
Treatment of esophageal, stomach and colon diseases with the help of prosthetics of their separate regions
Other diagnostic and therapeutic options
Curriculum vitae
Professional Career
Work at the Cantonal Hospital Geneva.
Work at the Hôpital Saint-Luc in Brussels.
Work at the University Hospital Lausanne.
Internship at Cedars Sinai Medical Center (Interventional Endoscopy), Los Angeles, USA.
Internship at the California Pacific Medical Center (Interventional Endoscopy), San Francisco, USA.
Since 2011 Work in the Department of Gastroenterology at the Hirslanden Clinic La Colline Geneva.
Photo of the doctor: (c) Hirslanden AG
---
About hospital
Accommodation in hospital
Duodenal ulcer
Program [Description]
Duodenal ulcer diagnosis
Hospital: Hirslanden Clinic La Colline Geneva
Type:
Duration:
Price:
date_range
There are 97 duodenal ulcer diagnostic hospitals on Booking Health website
Show all clinics
Certificates