Hirslanden Clinic St. Anna Lucerne
Department of Mammology (

26375

)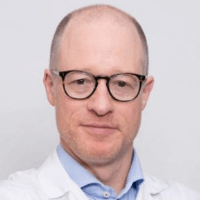 Prof. Dr. med.
Peter Dubsky
Specialized in: mammology
About the Department of Mammology at Hirslanden Clinic St. Anna Lucerne
The Department of Mammology at the Hirslanden Clinic St. Anna Lucerne offers all the options of modern medicine for the diagnostics and treatment of breast diseases. Special attention is paid to the provision of medical care to women with breast cancer, since this pathology is one of the most common among women. The Chief Physician of the department is Prof. Dr. med. Peter Dubsky.
The health of patients is in the safe hands of highly qualified specialists with extensive clinical experience. Mammologists have at their command the advanced equipment for detecting the slightest pathological changes in the mammary gland, as well as for timely and most effective treatment.
The treatment regimen is developed individually for each patient, in close collaboration with doctors of the related specialties. The department conducts weekly tumor boards with the participation of mammologists, oncologists, specialists in the field of radiation therapy and chemotherapy. This approach ensures that when developing a treatment plan and during the treatment itself, all the nuances and specific clinical indications of the patient will be taken into account.
The department is awarded with the quality seal of the Swiss Cancer League, and is also certified in accordance with the requirements of the Swiss Society of Senology.
The department's range of medical services includes:
Breast cancer screening, including self-examination guidelines at home
Ultrasound diagnostics for suspected pathological changes in the mammary gland (for example, pain, neoplasms)
Biopsy

Fine-needle aspiration biopsy
Punch biopsy
Vacuum-assisted biopsy

Digital mammography
breast diagnostics using radioactive substances (nuclear medicine)
Scintigraphy for suspected breast cancer

Sentinel lymph node scintigraphy (usually when planning an operation)
Skeletal scintigraphy for metastasis detection

Magnetic resonance imaging
Genetic counseling for patients with breast cancer in the family history
Psycho-oncological care
Chemotherapy
Radiation therapy
Surgical treatment, including organ-preserving interventions
Breast plastic surgery

Breast reconstruction after tumor resection
Breast reconstruction using autologous tissue, implants or a combination of these methods
Breast augmentation, reduction and lift
Correction of breast deformities and asymmetry

Physiotherapy to relieve pain, maintain arm mobility, etc.
Lymphatic drainage therapy to eliminate swelling in the breast, arms, etc.
Follow-up care after breast cancer treatment
Other services
Curriculum vitae of Prof. Dr. med. Peter Dubsky
Higher Education and Postgraduate Training
2011 Additional specialization in Abdominal Surgery.
2009 Habilitation on Immunotherapy for Cancer.
2005 Board certification in Surgery.
1998 Doctoral degree and preparation for board certification, Medical University of Vienna.
Professional Career
Since 2016 Head of the Department of Mammology at the Hirslanden Clinic St. Anna Lucerne.
2012 - 2016 Member of the Presidium of the Austrian Breast and Colorectal Cancer Study Group (ABCSG).
2010 - 2016 Board Member of the Austrian Commission for Breast Center Certification.
2010 Coordination of the work of Biomarker Cluster, Vienna.
2005 - 2016 Development and coordination of the work of the Center for Breast Health at the Medical University of Vienna.
2002 - 2004 Research internship in the USA on immunotherapy for cancer.
Research Activities
Prof. Dubsky is the author and co-author of more than 100 scientific publications. He has lectured in many European countries, as well as in Asia, Australia, Canada, Yemen, and Saudi Arabia. His research interests include clinical studies of breast cancer in the early stages, development and testing of genetic changes in breast cancer. In 2017, the doctor took part in the Consensus Group at the St. Gallen Breast Cancer Conference.
Memberships in Professional Societies
Austrian Society of Surgery.
Austrian Society of Surgical Oncology.
Austrian Breast and Colorectal Cancer Study Group (ABCSG).
American Society of Clinical Oncology.
International Breast Group (BIG).
Photo of the doctor: (c) Hirslanden AG
Department of Mammology.
Hirslanden Clinic St. Anna Lucerne:

Request more information now.
We will be happy to answer all your questions.
---
Certificates