Hirslanden Clinic St. Anna Lucerne
Department of Diagnostic and Interventional Radiology, Neuroradiology, Nuclear Medicine (

603654

)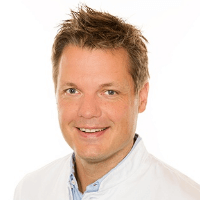 PD Dr. med.
Sebastian Kos
Specialized in: diagnostic and interventional radiology, neuroradiology, nuclear medicine
About the department
The Department of Diagnostic and Interventional Radiology, Neuroradiology, Nuclear Medicine at the Hirslanden Clinic St. Anna Lucerne offers the full range of imaging diagnostic tests and imaging-guided therapeutic procedures, including the diagnostics and treatment with radioactive substances. The department's team of neuroradiologists specializes in the detection and interventional treatment of diseases of the brain and spinal cord, their meninges and adjacent anatomical structures. The department is headed by PD Dr. med. Sebastian Kos.
The department has all the necessary resources for providing first-class medical services, namely high-tech equipment, competent doctors, as well as the possibility of close interdisciplinary cooperation with doctors from the related medical fields. The clinical practice strictly observes radiation protection standards, so patients can be confident in the safety of all procedures.
The diagnostic and therapeutic options of the department include:
Diagnostic radiology

Imaging tests of the abdominal organs (liver, gallbladder and bile ducts, pancreas, small and large intestine)
Imaging tests of the genitourinary system (prostate gland, kidneys, adrenal glands, urinary tract, female genital organs in the pelvic cavity)
Imaging tests of the mammary gland (mammography, ultrasound scan, MRI, CT scan)
Imaging tests of the musculoskeletal system (radiography, ultrasound scan, CT scan, MRI)
Imaging tests of the cardiovascular system, thoracic organs, including the lungs (CT scan and MRI)

Interventional radiology

Treatment of peripheral arterial disease of the lower extremities
Balloon dilatation and stenting for atherosclerosis
Bleeding treatment

Temporary artery occlusion using a balloon catheter
Targeted embolization of the bleeding artery
Large artery stenting

Treatment of varicose veins

Conservative treatment (for example, compression stockings)
Surgical removal of veins (stripping)
Microinvasive therapy (the affected vein is obliterated from the inside using a laser, radio frequency waves or a sclerosing agent)

Uterine fibroid embolization
Vascular access formation (PICC catheter, central venous catheter)
Placement of nutritional probes into the stomach and intestines (gastrostomy and jejunostomy)
Tumor treatment

Radiofrequency ablation
Cryotherapy
Embolization
Chemoembolization for liver cancer

Treatment of lung diseases

Sclerotherapy for lung tumors and metastases
Bronchial artery embolization for pulmonary hemorrhage
Minimally invasive surgery for pleural effusion, pleural empyema, lung abscess
Symptomatic treatment for lung tumors

Treatment of skeletal diseases (special focus on spinal pathology)

Targeted injection therapy or radiofrequency therapy for chronic back pain
Vertebroplasty
Minimally invasive CT-guided treatments for pelvic fractures using navigation and robot-assisted systems
CT- or MRI-guided treatment of osteoid osteoma
Retrograde drilling (for example, in case of damaged knee cartilage)

Pain therapy

Injection therapy for pain due to managed separate nerves or nerve roots
Injection therapy for pain caused by arthrosis (for example, small intervertebral joints)
Nerve plexus block for abdominal pain due to tumors
Stellate ganglion block (for example, in case of trigeminal neuralgia, Raynaud's disease)

Treatment of liver diseases

Neuroradiology

Diagnostics of diseases of the nervous system using CT scan and MRI (Alzheimer's disease, brain tumors, neck tumors, multiple sclerosis, herniated intervertebral discs, rheumatic lesions of the spine)

Nuclear medicine

Diagnostics
Therapy

Radioiodine therapy for the thyroid diseases (for example, Graves disease, goiter, thyroid cancer)

Other medical services
Curriculum vitae
Education and Professional Career
October 2012 Chief Physician of the Department of Diagnostic and Interventional Radiology, Neuroradiology, Nuclear Medicine at the Hirslanden Clinic St. Anna Lucerne, as well as a Partner Doctor at the SwissIntervention Center for Microtherapy.
2006 - June 2012 Specialization in Interventional Radiology in Basel and Vancouver.
2011 Habilitation at the University of Basel.
Until June 2012 Senior Physician of the Department of Interventional Radiology at the University Hospital Basel, as well as a Consulting Physician at the Hospital Bruderholz.
2003 - 2009 Further training in Radiology at the Hospitals in Basel and Aarau.
1996 - 2003 Study of Human Medicine in Mainz, New York, Edinburgh, Vienna, Boston and Aarau.
Clinical Interests
Minimally invasive tumor therapy.
Diagnostics and treatment of vascular diseases.
Interventional radiology (European Board of Interventional Radiology).
Memberships in Professional Societies
Swiss Society of Radiology (SGR-SSR).
Swiss Society of Cardiovascular and Interventional Radiology (SSCVIR).
European Society of Radiology (ESR).
Cardiovascular and Interventional Radiological Society of Europe (CIRSE).
Photo of the doctor: (c) Hirslanden AG
Department of Diagnostic and Interventional Radiology, Neuroradiology, Nuclear Medicine.
Hirslanden Clinic St. Anna Lucerne:

Request more information now.
We will be happy to answer all your questions.
---