Hirslanden Salem-Spital Bern
Department of Pediatric and Adolescent Medicine (

603768

)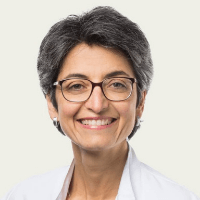 Dr. med.
Daniela Brunner
Specialized in: pediatric and adolescent medicine
About the department
The Department of Pediatric and Adolescent Medicine at the Hirslanden Salem-Spital Bern offers the full range of modern medicine for the prevention, diagnostics and treatment of various pathologies in children. During preventive examinations, the department's specialists assess both physical and psycho-emotional development of the child. Should any deviations be detected, the doctors will take all the necessary measures for the restoration of normal development of the child. The doctors of the medical facility maintain close cooperation with the Department of Pediatrics at the University Hospital Bern, which is one of the leading hospitals in Switzerland and Europe. Medical care is provided in strict accordance with the recommendations of the Swiss Society of Pediatrics. The department is headed by Dr. med. Daniela Brunner.
The department has an experienced team of true professionals who get along well with children and make every effort to ensure the diagnostics and treatment as comfortable as possible for them. In addition, the doctors hold many consultations for parents, during which they inform them about a particular problem with the child's health, as well as about the options for solving it.
The main clinical focuses of the department include:
Diagnostic services

Preventive examination of the child for the exclusion of disorders of physical and psycho-emotional development
Hearing screening at the age of 4 and 6 using audiometry
Vision screening in young children at the age of 1 and 2 years (examination using Plusoptix ophthalmic device)
Ultrasound scanning of the hip joints in newborns for the detection of hip dysplasia
X-ray examinations (for example, in fractures, injuries, etc.)

Therapeutic services

Emergency medical care
Treatment of growth disorders
Treatment of speech disorders
Treatment of cognitive disorders
Treatment of behavioral disorders
Treatment of attention deficit hyperactivity disorder
Treatment of injuries in children (for example, bone fractures)

Other diagnostic and therapeutic options
Curriculum vitae
Professional Career
November 2005 Opening of Private Pediatric Practice in Muri (jointly with Dr. med. B. Lehmann).
January 2005 - October 2005 Assistant Physician (focus on developmental disorders), Gruppenpraxis Weststadt Solothurn.
May 2002 - October 2004 Senior Physician, Children's Hospital, Bern.
1999 - 2002 Assistant Physician, Pediatric Hospital, Bern.
1997 - 1999 Assistant Physician, Department of Pediatrics, Cantonal Hospital Friborg.
Higher Education and Postgraduate Training
2002 Board certification in Pediatric and Adolescent Medicine, Swiss Medical Association (FMH).
1996 Assistant Physician, Department of Surgery (6 months), Tiefenauspital Bern.
October 1996 Doctoral Degree.
1990 - 1996 Study of Human Medicine at the Universities of Fribourg, Lausanne and Bern.
Photo of the doctor: (c) Hirslanden AG
Department of Pediatric and Adolescent Medicine.
Hirslanden Salem-Spital Bern:

Request more information now.
We will be happy to answer all your questions.
---