Atrioventricular nodal Rreentrant tachycardia (AVNRT) diagnostics (program ID:

608688

)
Hirslanden Salem-Spital Bern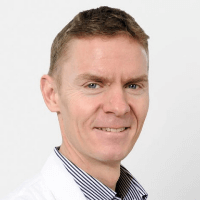 Head Physician
Dr. med.
Peter Christian Burger
Specialized in: cardiology
Department of Cardiology
The program includes:
Initial presentation in the clinic
clinical history taking
review of medical records
physical examination
laboratory tests:

complete blood count
biochemical analysis of blood
mineral metabolism analysis (Na, K, Ca, Mg)
lipid metabolism (HDL/LDL, cholesterol,
triglycerides Lip(a), homocysteine)
inflammation indicators (CRP, ESR)
indicators blood coagulation
blood gas analysis

chest x-ray examination
holter monitoring (24h)
measurement of arterial blood pressure
electrocardiogram (ECG)
pulmonary function test
echocardiography
doppler echocardiography
high-resolution computed tomography (HR-CT)/MRI (on indication 950/1200€)
CT angiography (on indication 1350€)
nursing services
consultation of related specialists
treatment by chief physician and all leading experts
explanation of individual treatment plan
(the cost of medicines is not included)
Required documents:
Medical records
ECG (if available)
Service
Price:
Type of program :
Expected duration of the program:
You may also book:

Price:
About the department
The Department of Cardiology at the Hirslanden Salem-Spital Bern offers the full service range for the diagnostics and treatment of cardiovascular diseases. The highly motivated team of experienced professionals applies all the methods of effective evidence-based medicine for the restoration of heart health. The department is headed by Dr. med. Peter Christian Burger.
The main focus of the department's doctors is on the patient with his individual needs and wishes. The medical facility has progressive medical and technical base for the accurate diagnostics, and also provides the effective interventional treatment of cardiac pathologies.
It is worth noting that the peculiarity of the department is cardiogenetic consultations for patients. If necessary, the special genetic analysis is performed at the University of Geneva. It allows the doctors to assess the risks of cardiovascular diseases and carry out timely prevention of heart lesions, which in some cases can lead to death.
The diagnostic and therapeutic service range of the department includes:
Diagnostics

Stress and resting electrocardiography
Echocardiography, including transthoracic echocardiography, transesophageal echocardiography
Stress echocardiography (also with a load on a bicycle ergometer, with a drug load of dobutamine)
24-hour ECG holter monitoring
Long-term ECG monitoring (7 days)
24-hour blood pressure monitoring
Monitoring of the functioning of pacemakers and defibrillators (in most cases, using resting ECG)
Cardiac CT
Cardiac MRI
Diagnostics using Reveal® ECG loop recorder
Coronarography
Electrophysiological heart examinations, including 3D electrocardiography of the cardiac pathways

Therapy

Cardiac resynchronization therapy for heart rhythm disturbances
Defibrillator implantation for heart rhythm disturbances
Pacemaker implantation for heart rhythm disturbances
Radiofrequency ablation for heart rhythm disturbances
Atrial septal defect and patent foramen ovale closure
Electrocardiography for the restoration of normal heart rhythm
Balloon dilatation of coronary artery occlusions

Cardiological rehabilitation (on an outpatient basis) – the duration of the program is from 6 to 12 weeks; training sessions are held 3 times a week for 1-2 hours
Other medical services
Curriculum vitae
Clinical Interests
Non-invasive imaging, including cardiac MRI and tomography examinations of coronary vessels.
Cardiologist at the Federal Aviation Administration (FOCA).
Professional Career
2002 - 2005 Work in the Department of Cardiology at the University Hospital Bern.
1999 - 2001 Research Fellow at the Harvard Medical School, Boston.
1997 - 1999 Work in the Department of Internal Medicine, University Hospital Zurich.
Higher Education and Postgraduate Training
2007 Certificate of Competence in Sports Medicine.
2005 Board certification in Cardiology, Swiss Medical Association (FMH).
2004 Board certification in Internal Medicine, Swiss Medical Association (FMH).
1996 Doctorate in Medicine, University of Zurich.
1993 State Medical Examination, University of Zurich.
Memberships in Professional Societies
Swiss Medical Association (FMH).
Massachusetts Medical Society.
Swiss Physiological Society.
Photo of the doctor: (c) Hirslanden AG
---
About hospital
Accommodation in hospital
Atrioventricular nodal reentrant tachycardia
Program [Description]
Atrioventricular nodal Rreentrant tachycardia (AVNRT) diagnostics
Hospital: Hirslanden Salem-Spital Bern
Type:
Duration:
Price:
date_range
There are 98 atrioventricular nodal reentrant tachycardia diagnostic hospitals on Booking Health website
Show all clinics