Hisar Intercontinental Hospital Istanbul
Department of Adult and Pediatric Dentistry (

609456

)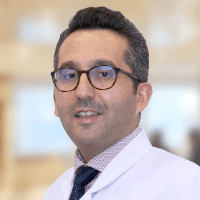 Assoc. Prof. Dr. med. Dr. dent.
Mithat Terzi
Specialized in: adult and pediatric dentistry
About the department
The Department of Adult and Pediatric Dentistry at the the Hisar Intercontinental Hospital Istanbul offers the full range of preventive, diagnostic and therapeutic services for patients with diseases of the teeth, gums and temporomandibular joint. The department has advanced dental equipment, which allows each patient to undergo the high-precision diagnostics and effective treatment of various pathologies, including especially complex ones. The department uses high-quality materials from leading world manufacturers for teeth prosthetics, filling and dental implantation, which in combination with the professionalism of doctors, guarantees high-quality and long-term result – a beautiful and dazzling smile. The department is headed by Assoc. Prof. Dr. med. Dr. dent. Mithat Terzi.
Any therapeutic measure is preceded by the comprehensive diagnostics, which, depending on the complexity of the clinical case, may include a visual examination of the teeth and oral cavity, examination using digital intraoral optical cameras, X-ray examination of certain teeth and the entire dentition, orthopantomography, laboratory tests in the case of necessity of surgical intervention.
According to the diagnostic results, the dentist decides on the required scope of treatment. All painful procedures are performed with anesthesia, which helps relieve the patient from discomfort. An individual approach to each patient is important for the successful treatment outcome. At the beginning of the therapeutic process, the department's doctors establish a trusting relationship with the patient, so that he feels as comfortable as possible and does not feel any anxiety about the upcoming treatment, since many people suffer from dentophobia.
The department's specialists who treat children have not only high professional skills in dentistry, but also knowledge in child psychology. In addition to the treatment of toothache, caries, correction of malocclusion, treatment of pulpitis in children, the task of a pediatric dentist is to win the child's trust and dispel his fears. The department's specialists perfectly cope with this task.
The key focuses of the department's work include:
Preventive dentistry (oral hygiene, fluoridation, exclusion of foods that can harm dental health)
Digital smile design
Dental implant placement to restore the lost teeth
Root canal treatment
Tooth filling
Correction of dentoalveolar anomalies (orthodontics)
Impacted teeth removal
Maxillofacial cyst and neoplasm removal
Treatment of pathological lesions of the gums and bone tissues of the jaw (periodontology)
Treatment of temporomandibular joint diseases
Dental prosthetics using crowns, removable laminar dentures, clasp dental prostheses, inlays, bridges, etc.
Laser procedures for the treatment of pathological teeth lesions
Aesthetic dentistry

Professional teeth cleaning
Teeth whitening
Teeth covering with fluoride varnish
Placement of veneers and lumineers

Pediatric dentistry

Prevention and treatment of caries in deciduous and adult teeth
Malocclusion correction
Treatment of pulpitis of deciduous teeth
Cosmetic dental care, teeth alignment
Extraction of deciduous teeth

Other dental services
Curriculum vitae
Education and Professional Career
2009 Doctoral Degree in Dentistry, Faculty of Dentistry, Atatürk University.
2014 - 2016 Assistant Professor, Faculty of Dentistry, Department of Periodontology, Afyon Kocatepe University.
2017 - 2018 Assistant Professor, Faculty of Dentistry, Department of Periodontology, Abant Izzet Baysal University.
Clinical Interests
Dental implantology, including sinus lift.
Periodontal surgery.
Digital smile design.
Teeth whitening.
Gingival depigmentation.
Veneer placement.
Botox treatment for bruxism.
Treatment of temporomandibular joint diseases.
Treatment of teeth and gums using a laser.
Photo of the doctor: (c) Hisar Hospital Intercontinental
Department of Adult and Pediatric Dentistry.
Hisar Intercontinental Hospital Istanbul:

Request more information now.
We will be happy to answer all your questions.
---
Certificates