Surgical resection of chordoma of the sacrum (program ID:

212337

)
Hospital Lindberg Winterthur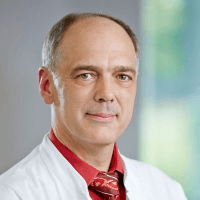 Head Physician
Dr. med.
Barna Boldog
Specialized in: orthopedic surgery, traumatology
Department of Orthopedic Surgery and Traumatology
Program includes:
Initial presentation in the clinic
clinical history taking
physical examination
review of medical records
laboratory tests:

complete blood count
general urine analysis
biochemical analysis of blood
TSH-basal, fT3, fT4
tumor markers
indicators of inflammation
indicators blood coagulation

CT/MRI scan of the sacrum
biopsy and histological examination
preoperative care
resection of tumor
histologically and immunohistochemically examination of the removed tissues
symptomatic treatment
control examinations
the cost of essential medicines and materials
nursing services
full hospital accommodation
explanation of future recommendations
Required documents
Medical records
MRI/CT scan (not older than 3 months)
Biopsy results (if available)
Service
Price:
Type of program :
Expected duration of the program:
You may also book

Price:
About the department
The Department of Orthopedic Surgery and Traumatology at the Multispecialty Hospital Lindberg under the lead of Dr. med. Barna Boldog treats congenital and acquired diseases, injuries and inflammations of all parts of the musculoskeletal system and spine. These include bones and joints, ligaments, tendons and muscles which are responsible for movements.
The orthopedic team of the Department around Dr. med. Barna Boldog offers treatment for a broad range of clinical cases: limbs bone and spine fractures, joint dislocations, muscle strains, bone tumors and infections as well as advanced arthroses (knee and/or knee joint), in which the joint is totally or partially replaced with a prosthesis.
A focal point of the Department is treatment of patients with knee complains. If conservative means cannot provide a sufficient result in case of arthrosis, joint-preserving surgeries and artificial knee joints placements can be performed. These options ensure reliable pain relief, a better joint flexibility and a more secure walking ability. Depending on the extent and position of the wear of the joint, joint parts (so-called unicompartmental sliding prostheses), kneecaps-joints with friction bearing (femoropatellar prostheses) or surface joints (total knee prostheses) are implanted.
Due to approved surgical procedures and the state-of-the-art equipment, specialists of the Multispecialty Hospital Lindberg guarantee the high level of precision and the greatest possible safety to all patients of the Hospital.
The range of medical services of the Department of Orthopedic Surgery and Traumatology:
Spine Surgery
Joint replacement/artificial joints (hip, knee, shoulder, etc.)
Arthroscopic interventions (arthroscopy)
Endoprosthetics
Surgeries on cartilage
Injection surgeries
Hand and foot surgery
Sports injuries
Photo of the doctor: (c) Privatklinik Lindberg
---
About hospital
Accommodation in hospital
Sacral chordoma
Program [Description]
Surgical resection of chordoma of the sacrum
Hospital: Hospital Lindberg Winterthur
Type:
Duration:
Price:
date_range
There are 106 sacral chordoma treatment hospitals on Booking Health website
Show all clinics