Hospital Neuwerk Moenchengladbach
Department of Adult and Pediatric General, Abdominal Surgery (

114139

)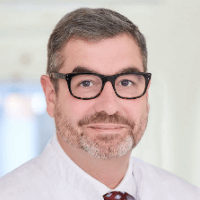 Prof. Dr. med.
Frank Granderath
Specialized in: adult and pediatric general, abdominal surgery
About the Department of Adult and Pediatric General, Abdominal Surgery at Hospital Neuwerk Moenchengladbach
The Department of Adult and Pediatric General, Abdominal Surgery at the Hospital Neuwerk Moenchengladbach offers the full range of surgical treatment in its areas of specialization. The key attention is paid to the treatment of the abdominal diseases with the focus on cancer and minimally invasive surgery. All surgical interventions are performed in the progressive operating rooms in compliance with the highest standards. The department is certified as the Competence Center for Minimally Invasive Surgery, the Competence Center for Bariatric Surgery, and is also the specialized Center for Gastroesophageal Reflux Disease.
The department is headed by Prof. Dr. med. Frank Granderath. He has earned the reputation as a highly skilled specialist in the treatment of benign and malignant diseases of the upper gastrointestinal tract, particularly, esophageal and stomach diseases. In 2018, the doctor was ranked among the top German surgeons specializing in hernia repair (according to the Focus magazine).
The department specializes in the treatment of the abdominal cancers. The therapeutic process is based on an interdisciplinary approach. The department regularly holds tumor boards with the participation of therapists, specialists in radiation therapy and chemotherapy, oncologists, and surgeons. Each patient receives an individual treatment regimen and further monitoring.
In most cases, the department's surgeons use minimally invasive techniques. Such operations are carried out using small probes, which are inserted into the abdominal cavity through small incisions along with the camera. To carry out this approach, the department is equipped with the cutting-edge equipment and a special operating room with high-resolution cameras. The benefits of minimally invasive surgery are reduced postoperative pain, rapid recovery, and shorter duration of hospital stay. The department's specialists perform cholecystectomy, as well as inguinal, umbilical and incisional hernia repair procedures only using minimally invasive techniques. Thanks to the department's particular experience, the operations on the esophagus, stomach, as well as ob the liver, spleen and adrenal glands can also be performed endoscopically. In some cases, such operations can also be possible for malignant colorectal diseases. In addition, the department's specialists offer another technique, in which the operation can be performed through an incision in the navel area. This technique has been used since 2008, mainly for gallbladder interventions.
The department's surgical service range includes:
General surgery

Surgery to treat inguinal, umbilical and incisional hernias in adults and children
Soft tissue surgery
Gallbladder removal
Surgery to treat varicose veins
Surgery to remove
Surgery to correct phimosis in children
Surgery to treat hypertrophic pyloric stenosis in children

Abdominal cancer surgery

Surgery to remove gastrointestinal tumors (esophagus, stomach, small and large intestine, rectum)
Surgery to remove pancreatic tumors
Surgery to remove liver tumors

Endocrine surgery

Surgery to remove benign and malignant neoplasms of the thyroid gland and parathyroid glands
Surgery on the adrenal glands and pancreas

Colorectal surgery

Surgery to treat malignant diseases of the small, large intestine and rectum (colorectal cancer)
Surgery for inflammatory bowel disease (Crohn's disease, ulcerative colitis, intestinal diverticulosis)
Diagnostic and therapeutic procedures for hemorrhoids, anorectal fistulas
Surgery for obstructive bowel syndrome and concomitant pelvic floor diseases (innovative STARR technique)

Other medical services
Curriculum vitae of Prof. Dr. med. Frank Granderath
Education and Professional Career
1989 - 1996 Study of Medicine in Duesseldorf and Aachen.
1997 - 2005 Postgraduate Training in General and Abdominal Surgery, Monchengladbach and Zell am See.
2005 - 2007 Leading Senior Physician, University Hospital Tuebingen.
Since 2007 Chief Physician, Hospital Neuwerk Moenchengladbach.
2009 - 2019 Medical Director, Hospital Neuwerk Moenchengladbach.
Qualifications
Board certification in General and Abdominal Surgery.
Specialization in Minimally Invasive Surgery.
Additional qualification in Proctology.
Additional qualification in Special Abdominal Surgery.
Clinical Qualifications
Abdominal cancer surgery.
Minimally invasive surgery.
Surgical treatment of gastroesophageal reflux disease.
Bariatric surgery.
Coloproctology.
Memberships in Professional Societies
German Society of Surgery (DGCH).
German Society of General and Visceral Surgery (DGAV).
European Association for Endoscopic Surgery (EAES).
Society of Laparoendoscopic Surgeons (SLS).
American Gastroenterological Association (AGA).
Review Career
Gastroenterology.
Surgical Endoscopy.
Indian Journal of Surgery.
Medical Science Monitor.
BMC Journal.
Annals of Surgery.
Videosurgery.
Photo of the doctor: (c) Hospital Neuwerk Moenchengladbach
Department of Adult and Pediatric General, Abdominal Surgery.
Hospital Neuwerk Moenchengladbach:

Request more information now.
We will be happy to answer all your questions.
---
Certificates