Hospital Neuwerk Moenchengladbach
Department of Pediatric and Adolescent Medicine (

114147

)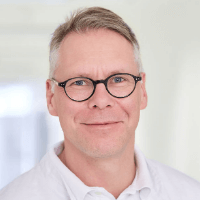 Dr. med.
Markus Vogel
Specialized in: pediatric and adolescent medicine
About the department
The Department of Pediatric and Adolescent Medicine at the Hospital Neuwerk Moenchengladbach offers the comprehensive diagnostics and treatment to young patients, ranging from newborns to adolescents under the age of 18 years. The department uses a comprehensive model of medical care, which includes not only the restoration of physical health of the child, but also attentive attitude to his emotional state. In order to facilitate the therapeutic process, the department has created conditions for the placement of one of the parents in the room with the child. The department has the prestigious Ausgezeichnet. FÜR KINDER certificate, which confirms the extremely high quality of the medical services provided here. The department is headed by Dr. med. Markus Vogel.
The priority areas of the department's specialization include the treatment of general pediatric diseases, hematopoietic diseases, infectious pathologies, as well as palliative care. Each area is represented by a specially trained team of professional doctors who make every effort to restore the health of their young patients.
The department's pediatricians in cooperation with the specialists in obstetrics provide medical care for emergency conditions in newborns. For this purpose, the department operates a specialized Intensive Care Unit for newborns, babies after the 32nd week of pregnancy.
The main clinical focuses of the department include:
Diagnostics and treatment of diseases in newborns, including during the perinatal period

Premature infants and newborns with an estimated body weight at birth from 1500 g
Intrauterine growth restriction (low birthweight)
Newborns from mothers with gestational diabetes and high blood pressure
Newborns with breathing problems, infections or severe newborn jaundice

Electroencephalography for the assessment of the condition of the central nervous system of the child
Ultrasound diagnostics
Lung function testing
Endoscopic procedures
Diagnostics and treatment of diseases of the hematopoietic system in children
Diagnostics and treatment of infectious diseases in children
Psychosomatic therapy
Palliative care
Other medical services
Curriculum vitae
Education and Professional Career
1992 - 1995 Study of Mechanical Engineering and Medical Technology in Berlin.
1995 - 2001 Study of Human Medicine in Marburg, New Haven, Cologne.
2003 Doctoral degree.
2008 Board certification in Pediatric and Adolescent Medicine.
2010 Specialization in Neonatology.
2012 Additional qualification in Infectology.
2010 - 2017 Senior Physician, Internal Medicine and Neonatology, Coordinator of the Center for Rare Diseases.
Since 2012 Clinical Consultant in Digital Technologies in Medicine.
2014 - 2016 Master of Business Administration, Duesseldorf.
2016 Master of Business Administration, Documentation in Healthcare.
Since 2017 Chief Physician of the Department of Pediatric and Adolescent Medicine at the Hospital Neuwerk Moenchengladbach.
Memberships in Professional Societies
German Society of Pediatrics and Adolescent Medicine.
Federal Association of Pediatricians.
German Society for Pediatric Infectious Diseases.
European Society for Paediatric Infectious Diseases (ESPID).
German Society for Neonatology and Pediatric Intensive Care Medicine.
Photo of the doctor: (c) Hospital Neuwerk Moenchengladbach
Department of Pediatric and Adolescent Medicine.
Hospital Neuwerk Moenchengladbach:

Request more information now.
We will be happy to answer all your questions.
---
Certificates