Department of Pediatric Neurological Rehabilitation (

251269

)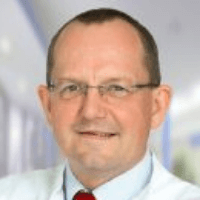 Dr. med.
Achim Nolte
Specialized in: pediatric neurological rehabilitation
About the Department of Pediatric Neurological Rehabilitation at HELIOS Clinic Geesthacht
The Department of Pediatric Neurological Rehabilitation at the HELIOS Clinic Geesthacht offers the full range of rehabilitation measures for children, adolescents and young people under the age of 25 years with diseases of the nervous system. The Chief Physician of the department is Dr. med. Achim Nolte.
The department has at its disposal state-of-the-art equipment and tremendous clinical experience for the restoration of motor, communication and cognitive skills. For example, the Armeo®Spring exoskeleton and the SAEBO wrist and finger orthosis serve to restore the functionality of the fingers and hand. In addition, the department is the only pediatric rehabilitation facility in northern Germany that uses the innovative Lokomat® robotic gait training system.
A special offer of the department is a week-long comprehensive rehabilitation program for children under the age of 18 years with chronic neurological disorders. This program adapts to the individual clinical characteristics and needs of the child – the threat of disability, mental development problems, behavioral disorders, etc. When prescribing a course of treatment, a rehabilitologist pursues specific goals, for example, improving motor and communication skills, eliminating problems with swallowing, improving cognitive abilities, etc. The key role is given to the best possible reintegration into school or professional life (depending on the age of the patient).
The indications for neurological rehabilitation in children, adolescents and young people can be the following diseases:
Traumatic brain injuries
Encephalitis
Meningoencephalitis
Conditions after neurosurgical interventions (for example, surgery to treat brain tumors, epilepsy)
Oncopathologies with lesions to the nervous system
Brain lesions due to hypoxia
Cerebral hemorrhage, cerebral infarction and cerebrovascular lesions
Spinal cord injuries
Polyneuropathy
Guillain-Barré syndrome
Epilepsy
Muscular diseases (for example, spinal muscular atrophy, Duchenne muscular dystrophy)
Cerebral paralysis
Developmental disorders of unclear origin
Motor disorders
Other diseases of the neurological spectrum
The therapeutic options of the department include:
Physiotherapy (treatment of spasticity, treadmill training, Bobath therapy)
Therapeutic physical training (therapeutic swimming, training for patients in wheelchairs, treatment and training programs)
Ergotherapy (development of motor functions of the upper limbs)
Speech and language therapy to eliminate speech and swallowing disorders
Art therapy
Music therapy
Activities aimed at restoring neurological functions (for example, swimming, games)
Neuropsychological care
Other rehabilitation measures
Photo of the doctor: (c) VAMED Klinik Geesthacht
Department of Pediatric Neurological Rehabilitation.
HELIOS Clinic Geesthacht:

Request more information now.
We will be happy to answer all your questions.
---
Certificates