Pacemaker implantation for carotid sinus hypersensitivity (CSH) (program ID:

119507

)
Klinik im Park Zurich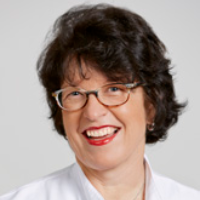 Head Physician
Prof. Dr. med.
Christine Attenhofer Jost
Specialized in: internal medicine, cardiology
Department of Cardiovascular Diseases
Program includes:
Initial presentation in the clinic
clinical history taking
review of medical records
physical examination
laboratory tests:

complete blood count
biochemical analysis of blood
thyroid function test (TSH-basal, fT3, fT4)
mineral metabolism analysis (Na, K, Ca, Mg)
lipid metabolism (HDL/LDL, cholesterol, triglycerides,
Lip(a), homocysteine)
iron content (ferritin, iron)
blood coagulation analysis (aPTT, PT, INR)
metabolic status (uric acid, total glucose, HbA1c)
inflammatory parameters (CRP, ESR)
cardiovascular disease risk markers

vascular system assessment
lung function test (Spirometry)
resting and exercise ECG
vessel elasticity measurement
Holter monitoring (24h)
body fat and water examination
color doppler echocardiography
color doppler sonography of cerebral vessels​
preparation according to preoperative standard
pacemaker implantation
symptomatic treatment
control examinations
the cost of essential medicines and materials
nursing services
full hospital accommodation
explanation of future recommendations
Service
Price:
Type of program :
Expected duration of the program:
You may also book

Price:
About the department
The Cardiology Centre Zurich aims to give patients the best possible advices and care in the field of heart and blood vessels diseases. Experienced and renowned cardiologists and cardiac surgeons guarantee individual treatment at the highest level. Competent care, advanced medical and surgical services are also available. The interdisciplinary cooperation with other centres offers comprehensive care under the guidance of a doctor with the trust of the patients.
Photo of the doctor: (c) Hirslanden AG
---
About hospital
Accommodation in hospital
Carotid sinus syndrome
Price:
Program [Description]
Pacemaker implantation for carotid sinus hypersensitivity (CSH)
Hospital: Klinik im Park Zurich
Type:
access_time Duration:
date_range
There are 92 carotid sinus syndrome treatment hospitals on Booking Health website
Show all clinics
Certificates