ERCP for obstruction of bile duct obstruction with endoscopic bougienage and stent implantation (program ID:

57439

)
Klinik im Park Zurich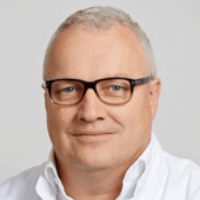 Head Physician
Dr. med.
Marco Bernardi
Specialized in: internal medicine, gastroenterology
Department of Gastroenterology and Hepatology
Program includes:
Initial presentation in the clinic
clinical history taking
physical examination
review of medical records
laboratory tests:

complete blood count
general urine analysis
biochemical analysis of blood
TSH-basal, fT3, fT4
indicators of inflammation (CRP, ESR)
indicators blood coagulation

abdominal ultrasound
CT/MRI abdomen
ERCP with endoscopic bougienage and stent implantation
symptomatic treatment
control examinations
the cost of essential medicines and materials
nursing services
nutrition recommendations
full hospital accommodation
explanation of future recommendations
Required documents
Medical records
Abdominal ultrasound (if available)
Abdominal MRI/CT scan (if available)
Service
Price:
Type of program :
Expected duration of the program:
You may also book

Price:
About the department
Various digestive diseases and stomach disorders are the most common reason for seeking medical care. The Gastroenterology and Hepatology Center of Klinik Im Park employs only the most qualified doctors. Their experience and knowledge allow effective treatment of digestive diseases, stomach disorders, diseases of the bowel, and liver. If necessary, we work closely with visceral surgeons, oncologists, intensive care physicians, radiologists and radiotherapists.
Our medical experts take the wishes of our patients very seriously. In addition to a high level of expertise, personalized patient care is extremely important to us. Our friendly and experienced team of endoscopists received special training. Endoscopy procedures are considered to be an extremely effective diagnostic method, and the doctor is able to see the status of the internal organs. At our hospital, endoscopy procedures are performed using advanced equipment with very high resolution (zoom, HDTV, narrowed spectrum endoscopy procedures). Diagnostic and therapeutic endoscopy procedures can be performed in an inpatient unit of Klinik Im Park or on the outpatient basis in our cozy facilities with advanced equipmen
In order to treat digestive diseases and stomach disorders (including chronic inflammatory bowel disease, Crohn's disease, Kolitis ulzerosa (ulcerative colitis), irritable bowel syndrome) more effectively, our doctors conduct consultations and receive second opinions (opinion of another doctor).
Photo of the doctor: (c) Hirslanden AG
---
About hospital
Accommodation in hospital
Bile duct obstruction
Program [Description]
ERCP for obstruction of bile duct obstruction with endoscopic bougienage and stent implantation
Hospital: Klinik im Park Zurich
Type:
Duration:
Price:
date_range
There are 93 bile duct obstruction treatment hospitals on Booking Health website
Show all clinics
Certificates