Academic Teaching Hospital Luisenhospital of the Aachen University
Department of Vascular Surgery (

25

)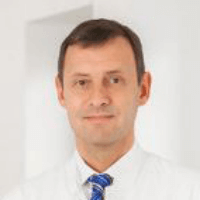 Dr. med.
Ulrich Radtke
Specialized in: vascular surgery
About the department
The Department of Vascular Surgery at the Academic Teaching Hospital Luisenhospital of the Aachen University in Aachen provides treatment of all vascular diseases. The medical team of the department under the direction of Dr. med. Ulrich Radtke consists of eight doctors and qualified nursing staff.
There is the Outpatient Surgery Center for minor surgery. However, the treatment of arteries requires an inpatient stay.
Among the main focuses of the Department of Vascular Surgery are operations on the carotid artery. The department performs surgery on the narrowed arteries (and arteries that are at risk of blockage) in the neck and spine. This prevents strokes and in some cases doctors place a mesh through the groin (stent implantation).
Another focus of the department is placed on the abdominal aortic surgery. The surgical procedures on dilated arteries and arteries with calciferous deposits (aortic aneurysm) suggest the placement of tubular prostheses or Y-prostheses. These operations can be performed either "classically" (through an incision in the abdominal area) or endovascularly (the surgeon makes a small incision in the groin and places a mesh into the aneurysm by means of a catheter; this mesh will be later expanded and stretched by a balloon (aortic stent).
The spectrum of medical services of the department covers the entire range of coronary artery bypass grafting (initial stent implantation, revision, catheter implantation, extension of narrowings with a balloon catheter (shunt angioplasty) and surgical emergency. The department provides specialized consultations on coronary artery bypass grafting, which involve pre- and post-operative examinations, as well as a 24-hour emergency service. All examinations and interventions are carried out in close cooperation with the cooperating Dialysis Practices, Anesthesiology, Radiology and the Department of Medicine at the Academic Teaching Hospital Luisenhospital of the Aachen University.
An important focus is placed on the treatment of varicose veins and vein thrombosis on the legs (mostly on an outpatient basis), as well as sclerotherapy for varicose veins. For the treatment of vein thrombosis on the legs specialists use all available treatment options ranging from the reduction of blood clotting with heparin, the dissolution of thrombi with medicines (lysis) up to the surgical removal of blood clots. Trophic ulcers of the lower leg (Ulcera cruris) require partial hospitalization, during which doctors can provide both differential diagnosis and intensive treatment.
The range of medical services of the department includes:
Carotid artery (Arteria carotis)
Venous thrombosis
Bypass surgery
Occlusive arterial disease (peripheral arterial occlusive disease)
Thoracic and abdominal aorta
Varicose veins
Implantation of pacemakers and ports
and other diseases
Photo of the doctor: (c) Luisenhospital Aachen
Department of Vascular Surgery.
Academic Teaching Hospital Luisenhospital of the Aachen University:

Request more information now.
We will be happy to answer all your questions.
---