Marienhaus Hospital St. Elisabeth Neuwied
Department of Adult and Pediatric Gastroenterology, Hepatology and Diabetology (

289991

)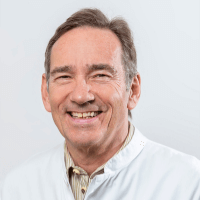 Dr. med.
Christian-René de Mas
Specialized in: adult and pediatric gastroenterology, hepatology, diabetology
About the department
The Department of Adult and Pediatric Gastroenterology, Hepatology and Diabetology at the Marienhaus Hospital St. Elisabeth Neuwied provides the full service range in its areas of specialization. The department's doctors are excellent experts in the treatment of diseases of the gastrointestinal tract, liver, gallbladder and pancreas, including diabetes mellitus. Particular attention in clinical practice is paid to endoscopic diagnostics and treatment of tumors of the digestive tract, biliary tract and pancreas at the initial stages. The department has advanced endoscopic equipment, which guarantees the most effective and sparing treatment. The department is headed by Dr. med. Christian-René de Mas.
In the field of gastroenterology, the doctors often carry out such procedures as gastroscopy, colonoscopy, endoscopic retrograde cholangiopancreatography, cholangioscopy, small bowel endoscopy (double-balloon enteroscopy), endosonography and others. Both endoscopic and laparoscopic techniques can be used for tissue sampling.
Hepatology direction is responsible for the diagnostics and treatment of liver diseases, including viral (for example, hepatitis B and C) and autoimmune lesions (autoimmune hepatitis, primary biliary cholangitis, primary sclerosing cholangitis). The great advantage for patients is close cooperation of specialists with the Department of Transplantology at the University Hospital Mainz.
In addition, the department cooperates closely with the Department of Pediatric and Adolescent Medicine. Thus, young patients with suspected gastrointestinal diseases can undergo various endoscopic procedures here.
The department has the status of the Treatment and Training Center for patients with type 1 and type 2 diabetes mellitus (certification of the German Diabetes Association). It provides the inpatient and outpatient diagnostics, treatment, counseling for patients with type I and type II diabetes mellitus.
The department's range of medical services includes:
Gastroenterology and hepatology

Gastroscopy
Colonoscopy
Rectoscopy
Sigmoidoscopy
Endoscopic retrograde cholangiopancreatography
Mini-laparoscopic interventions
Endoscopic ultrasound scanning
Ultrasound scan of the digestive tract and liver
Puncture and biopsy procedures
Endoscopic diagnostics and treatment in children
Intensive care
Pain management
Palliative care

Diabetology

Nutrition counseling in diabetes mellitus
Training in self-monitoring of blood glucose levels
Insulin therapy, including intensive one
Prevention of diabetic foot
Prevention of other complications of diabetes mellitus

Other services
Curriculum vitae
Education and Professional Career
1975 - 1982 Study of Medicine at the Universities of Dortmund, Duesseldorf and Heidelberg.
1982 Admission to medical practice and doctoral thesis defense at the Heidelberg University.
1990 Board certification in Internal Medicine.
1991 Board certification in Gastroenterology.
1998 Board certification in Diabetology by the German Diabetes Society (DDG).
2006 Member of the European Board of Gastroenterology.
2014 Status of Medical Specialist in Palliative Medicine.
2014 Specialization in Geriatrics.
Since January 1, 2003 Chief Physician of the Department of Adult and Pediatric Gastroenterology, Hepatology and Diabetology at the Marienhaus Hospital St. Elisabeth Neuwied.
Clinical Focuses
Gastroenterology.
Diabetology
Hepatology.
Intensive Medicine.
Palliative Medicine.
Aviation Medicine.
Memberships in Professional Societies
German Society of Digestive and Metabolic Diseases.
German Society for Endoscopy and Imaging Procedures.
Gastroenterological Professional Community of Rhineland-Palatinate.
German Society of Aviation and Aerospace Medicine.
Southwest German Professional Community of Emergency Physicians.
Working Group of the German Parachute Association.
German Cancer Society.
Photo of the doctor: (c) Marienhaus Kliniken GmbH
Department of Adult and Pediatric Gastroenterology, Hepatology and Diabetology.
Marienhaus Hospital St. Elisabeth Neuwied:

Request more information now.
We will be happy to answer all your questions.
---
Certificates