Marienhaus Hospital St. Elisabeth Neuwied
Department of Pediatric and Adolescent Medicine (

289994

)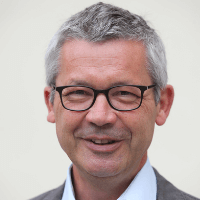 Dr. med.
Michael Ehlen
Specialized in: pediatric and adolescent medicine
About the department
The Department of Pediatric and Adolescent Medicine at the Marienhaus Hospital St. Elisabeth Neuwied offers the effective treatment of the full range of diseases in young patients between the ages of 0 and 18 years. The department also provides medical care for extremely premature infants. Particular attention is paid to such medical fields as neonatology and pediatric intensive care, neuropediatrics and epileptology, diabetology and pediatric cardiology. The possibility of accommodation of one of the parents in the room contributes to the creation of a family environment, which is comfortable for the child. The Chief Physician of the department is Dr. med. Michael Ehlen.
The department is focused on the needs of young patients and does everything possible for their comfortable stay in the hospital. The doctors and medical staff cooperate closely with pediatric psychologists, childcare specialists and teachers. The close cooperation with the Departments of General Surgery, Traumatology, Oral and Maxillofacial Surgery and Orthopedics allows them to provide urgent medical care if surgery is necessary.
To make an accurate diagnosis, the department has an ultramodern laboratory for various tests, ultrasound diagnostic systems, electrocardiographs, electroencephalographs, pulmonary function testing laboratory and other advanced examination techniques. Thanks to close cooperation with the Department of Diagnostic Radiology, the specialists have unlimited access to CT and MRI.
The Intensive Care Unit is designed for 20 beds, 12 of which serve for intensive care in premature and full-term newborns, 4 for monitoring, and another 4 for intensive care in older children and adolescents. The clinical practice involves the use of all modern intensive care methods. Medical care for premature infants and young children is provided in close collaboration with regional maternity hospitals.
Along with the Department of Obstetrics, the department is part of the Level I Center for Perinatal Medicine. About 45 babies weighing up to 1,500 grams receive qualified medical care here annually. The specialists in the field of neonatology and pediatric intensive care have successful experience in caring for newborns weighing from 500 grams or more. The main problems in these babies are related to the immaturity of the brain, lungs and digestive organs. Nevertheless, 90% of newborns with a body weight from 500 to 1,500 grams survive and develop normally in the future.
The department's range of medical services includes:
Diagnostics and treatment of children and adolescents with suspected epilepsy and headache of unknown origin
Diagnostics and treatment of children and adolescents with developmental delay
Diagnostics of growth disorders (short stature, gigantism and tall stature) and growth hormone therapy
Diagnostics, treatment and constant care for children and adolescents with diabetes mellitus
Lung plethysmography in infants and children up to 100 cm tall (including with methacholine challenge test)
Lung plethysmography in school-age children and adolescents (with a load or methacholine challenge test)
Video-EEG monitoring
Flexible bronchoscopy
Echocardiography
Genetic counseling in collaboration with the University Hospital Bonn
Long-term ECG monitoring
Neurophysiological examinations (recording of auditory, sensory and visual evoked potentials, nerve conduction study)
pH-metry
Ultrasound diagnostics
Hydrogen breath test
Other diagnostic and therapeutic options
Curriculum vitae
Dr. med. Michael Ehlen studied medicine at the University of Bonn. In 1987, he began his work at the Marienhaus Hospital St. Elisabeth Neuwied. Here he was trained as a Medical Specialist in Anesthesiology and Intensive Care. This was followed by training in Pediatric Anesthesiology in Koblenz, after which he made a choice in favor of Pediatrics. Dr. Ehlen underwent training in Neonatology at the Perinatal Center of the University Hospital Bonn. In 1996, he moved to the Marienhaus Hospital St. Elisabeth Neuwied, where he became the Medical Specialist in Pediatrics and received additional qualifications in Neonatology. In 2000, the specialist went to Sankt Augustin. He held the position of the first Senior Physician in the Department of Neonatology and Pediatric Intensive Care in the largest pediatric hospital in the region. In 2005, he headed these fields. Currently, the doctor heads the Department of Pediatric and Adolescent Medicine at the Marienhaus Hospital St. Elisabeth Neuwied.
Photo of the doctor: (c) Marienhaus Kliniken GmbH
Department of Pediatric and Adolescent Medicine.
Marienhaus Hospital St. Elisabeth Neuwied:

Request more information now.
We will be happy to answer all your questions.
---
Certificates