Laparoscopic myomectomy of uterine fibroids (myoma uteri) (program ID:

292398

)
Marienhaus Hospital St. Elisabeth Neuwied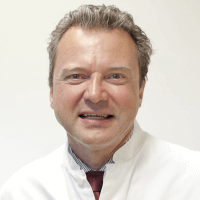 Head Physician
Prof. Dr. med.
Richard Berger
Specialized in: gynecology, obstetrics, mammology
Department of Gynecology, Obstetrics and Mammology
The program includes:
Initial presentation in the clinic
clinical history taking
review of medical records
physical examination
laboratory tests:

complete blood count
general urine analysis
biochemical analysis of blood
inflammation indicators (CRP, ESR)
indicators blood coagulation
tumor markers (CEA, CA19-9, CA125)

gynecological examination
ultrasound examination: pelvis, abdomen
preoperative care
aparoscopic myomectomy
histologically examination of the remote tissues
symptomatic treatment
control examinations
the cost of essential medicines and materials
nursing services
full hospital accommodation
explanation of future recommendations

Service
Price:
Type of program :
Expected duration of the program:
You may also book:

Price:
About the department
The Department of Gynecology, Obstetrics and Mammology at the Marienhaus Hospital St. Elisabeth Neuwied offers all the options of modern medicine for the diagnostics and treatment of diseases of the female reproductive organs and breast. Particular attention is paid to medical care for patients with gynecologic cancers and breast cancer (both diagnostics and treatment are carried out within the specialized Breast Center). The team of obstetricians and specialists in perinatal medicine take care about the safe course of pregnancy, as well as a successful childbirth, the health of mother and baby. The patients receive medical care from the highly qualified doctors who have state-of-the-art medical equipment in their arsenal, as well as the effective methods of diagnostics and treatment. The department is headed by Prof. Dr. med. Richard Berger.
General gynecology is focused on operations for uterine fibroids, endometrial removal and ablation, uterine resection. The interventions are mostly performed endoscopically.
The team of the department's doctors has rich and successful experience in the treatment of reproductive cancers in women. The treatment takes place within the specialized center. The most common diagnoses include uterine, ovarian, fallopian tube, vaginal and vulvar cancers. All pathologies require a comprehensive approach and the involvement of gynecologists, surgeons, radiation therapists, radiologists, experts in nuclear medicine and other medical specialists in the therapeutic process. The work of psycho-oncologists also plays an equally important role in achieving successful result. The treatment regimen is determined individually for each patient, at weekly tumor boards. The treatment tactics meet the current national and international recommendations.
The department operates the Breast Center, the competence of which includes the diagnostics and treatment of breast diseases. The special focus is on the treatment of breast cancer. The Breast Center is certified in accordance with the requirements of the German Society of Senology and the German Cancer Society, which guarantees top-class medical care for patients. The department's surgeons use the very latest and the most sparing surgical techniques, which preserve breast in 75% of patients. If it is necessary to perform total breast removal surgery, the surgeons use progressive reconstructive techniques, as they can return a woman an attractive appearance.
An integral part of clinical practice is perinatal medicine and obstetrics. The department has the status of the Level I Perinatal Center. More than 2,000 babies are born here annually, which makes the department the largest Obstetric Center in Rhineland-Palatinate. The competent obstetricians have successful experience in managing multiple pregnancies and high-risk pregnancies. Newborns weighing less than 1,500 grams also receive medical care here. Modern maternity rooms are equipped with everything necessary for a comfortable and safe childbirth. If desired, pain relief can be carried out using acupuncture or epidural anesthesia. It is possible to give birth in water. If C-section is necessary, the doctors use sparing surgical techniques.
Since the beginning of 2010, the department has been actively cooperating with the Clinic for Prenatal Medicine and Clinical Genetics in Meckenheim-Bonn-Neuwied. The doctors of the clinic regularly carry out outpatient consultations. At the same time, they use the very latest methods of prenatal diagnostics, including ultrasound scanning and fetal heart testing. In most cases, this allows the doctors to plan the optimal treatment after the childbirth.
The department's range of medical services includes:
General gynecology

Hysteroscopy

Endometrial ablation
Polyp removal
Uterine fibroid removal

Laparoscopy

Ovarian surgery
Laparoscopic separation of adhesions (adhesiolysis)
Enucleation of uterine fibroids
Resection of pathological foci in the endometrium
Total laparoscopic hysterectomy
Laparoscopic supracervical hysterectomy

Gynecologic oncology

Imaging diagnostics (high-resolution ultrasound, computed tomography, including CT-guided biopsy, magnetic resonance imaging, scintigraphy)
Cancer surgery with the focus on minimally invasive surgical techniques (advanced uterine resection and lymph node removal)
Sentinel lymph node biopsy
Multivisceral resections for extensive lesions of the abdominal organs followed by reconstruction of several organs
Plastic reconstructive surgery of the vulva and vagina
Sentinel lymph node removal
Radiation therapy (modern techniques with individual 3D planning)
Systemic therapy (outpatient chemotherapy, hormone therapy and antibody therapy)
Psycho-oncological care
Inpatient and outpatient palliative care

Mammalogy

Preoperative diagnostics, including mammography, sonography, magnetic resonance imaging, imaging-guided preoperative biopsy
Breast screening
Pathological and genetic diagnostics in collaboration with the external partners
Surgical resection of breast tumors (focus on breast-conserving surgery)
Adjuvant and neoadjuvant hormone therapy, immunotherapy and chemotherapy
Radiation therapy
Psycho-oncological care
Inpatient and outpatient palliative care

Obstetrics

Integrated management of pregnancy
Childbirth (natural birth, C-section, childbirth in water)
Pain management during childbirth
Care for mother and baby

Other diagnostic and therapeutic options
Curriculum vitae
Education and Professional Career
1981 - 1987 Study of Medicine at Ludwig Maximilian University of Munich.
1987 State Examination.
1989 Doctoral thesis defense.
1995 Board certification in Gynecology and Obstetrics.
1996 Rehabilitation in Gynecology and Obstetrics.
2002 Extraordinary Professorship in Gynecologic Oncology and Special Obstetrics, Perinatal Medicine.
Clinical Focuses
Perinatology.
Senology.
Gynecologic Oncology.
Memberships in Professional Societies
Society of Gynecologic Research.
German Society of Gynecology and Obstetrics.
German Society of Senology.
German Society of Perinatal Medicine.
German Continence Society.
Working Group on Obstetrics of the German Society of Gynecology and Obstetrics.
Rhineland-Palatinate Cancer Society.
Honors
As the winner of 18 international and national awards and prizes, Prof. Berger ranks among the top physicians in "Who is who in the world" list and on www.die-besten-nennen.de.
Photo of the doctor: (c) Marienhaus Kliniken GmbH
---
About hospital
Accommodation in hospital
Program [Description]
Laparoscopic myomectomy of uterine fibroids (myoma uteri)
Hospital: Marienhaus Hospital St. Elisabeth Neuwied
Type:
Duration:
Price:
date_range
Certificates