Treatment of pleural empyema (abscess) with pleurectomy and lung decortication (program ID:

287029

)
Martha-Maria Hospital Munich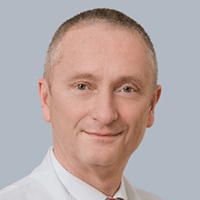 Head Physician
Prof. Dr. med.
Heinrich Fürst
Specialized in: general, abdominal, vascular and thoracic surgery
Department of General, Abdominal, Vascular and Thoracic Surgery
Program includes:
Initial presentation in the clinic
clinical history taking
review of medical records
physical examination
laboratory tests:

complete blood count
biochemical analysis of blood
inflammation indicators (CRP, ESR)
indicators blood coagulation
TSH-basal
blood gas analysis

chest x-ray examination​
measurement of arterial blood pressure
electrocardiogram (ECG)
echocardiography (ECHO)
high-resolution computed tomography (HR-CT)
ultrasound examination of the chest
preoperative care
operation with or without pleurodesis/ decortication
histological research
symptomatic treatment
control examinations
the cost of essential medicines and materials
nursing services
full hospital accommodation
explanation of future recommendations
Required documents
Medical records
Chest ultrasound/X-ray/CT scan (if available)
Service
Price:
Type of program :
Expected duration of the program:
You may also book

Price:
About the department
The Department of General, Abdominal, Vascular and Thoracic Surgery at the Martha-Maria Hospital Munich offers the full range of top-class surgical treatment in accordance with current clinical protocols. The department's specialists focus on endocrine surgery, minimally invasive surgery, gastrointestinal surgery, surgical treatment of lung diseases, vascular surgery and emergency surgery for injuries. The department holds leading positions in the field of endocrine surgery both at the European and international levels. The department is headed by Prof. Dr. Dr. med. Heinrich Fürst.
The department is a recognized Center for Thyroid and Parathyroid Surgery, which performs more than 2,000 thyroid surgeries and about 300 parathyroid surgeries every year. Over the years of clinical practice, the department has performed more than 29,000 thyroid surgeries and about 3,000 parathyroid interventions.
It is worth noting that the department is the only medical facility in Bavaria that specializes in ultrasound therapy for benign thyroid tumors. This type of therapy is a new and especially sparing alternative technique for the treatment of thyroid neoplasms. The essence of the procedure is the use of therapeutic ultrasound, which works on the principle of a magnifying glass – the ultrasound rays are focused at one point, which leads to local heating of tissues in the target area (up to about 85° C), and ultimately to the destruction of pathological foci. At the same time, healthy tissues are not affected. The procedure is completely painless. The ultrasound therapy is suitable for the treatment of benign thyroid nodules and can also serve as an alternative to radioiodine therapy.
Another area of ​​specialization of the medical facility is thoracic surgery. The department regularly performs surgical interventions on the lungs and other thoracic organs. The priority is given to surgical treatment of thoracic cancers. A huge advantage for patients is minimally invasive interventions on the lungs, which provide a speedy recovery of the patient, minimize blood loss, and also reduce the risks of postoperative complications. For example, minimally invasive operations can be performed for recurrent pleurisy, spontaneous pneumothorax, as well as for inflammatory diseases of the lungs and pleura. In addition, the department widely practices operations using modern thoracoscopic techniques and video-assisted thoracoscopic surgery.
In the field of vascular surgery, the department specializes in the treatment of сarotid artery stenosis and surgical interventions for varicose veins.
The field of ​​the department's competence also includes surgical interventions on the organs of the gastrointestinal tract, urgent surgery, as well as emergency care in case of injuries. With appropriate clinical indications, the operations are performed using minimally invasive techniques. The department's surgeons also have all the technical resources and the necessary qualifications for open surgical interventions. Thus, each patient receives the individual treatment, taking into account the particular clinical case. Along with the optimal surgical treatment, the key task of a competent team of doctors is the safety of the patient and the prevention of complications.
The department's range of medical services includes:
Endocrine surgery

Thyroid surgery
Parathyroid surgery
Ultrasound therapy for the treatment of benign thyroid neoplasms (as an alternative to surgical treatment)

Minimally invasive surgery

Minimally invasive thyroid and parathyroid surgery
Laparoscopic interventions on the adrenal glands
Laparoscopic interventions on the gallbladder
Laparoscopic interventions on the cecum
Minimally invasive surgery for hernias
Laparoscopic removal of abdominal adhesions and laparoscopic bowel surgery
Minimally invasive thoracic surgery (video-assisted thoracoscopic surgery)

Gastrointestinal surgery

Esophageal surgery (for example, in case of Zenker's diverticulum)
Diaphragmatic surgery (for example, in case of hiatal hernia)
Gastric surgery (for example, in case of ulcers, malignancies)
Small bowel surgery (for example, in case of Meckel's diverticulum)
Colon surgery (for example, in case of diverticulosis, polyps, malignant tumors)
Surgical treatment of inflammatory bowel diseases (Crohn's disease, ulcerative colitis)
Endoscopic procedures on the gastrointestinal organs for diagnostic and therapeutic purposes

Vascular surgery

Surgical treatment of carotid stenosis
Surgical treatment of varicose veins

Thoracic surgery

Surgical treatment of lung cancer and lung metastases, as well as malignant neoplasms of the mediastinum, thoracic wall and pleura
Surgical treatment of mediastinal diseases (for example, thymomas, lymphomas, germ cell tumors)
Surgical treatment of thoracic wall tumors
Palliative interventions (for example, pleurodesis, continuous pleural drainage)
Surgical treatment of infectious lesions of the respiratory system (for example, pleural empyema, lung abscess, bacterial destruction of lung tissue)
Surgical treatment of benign diseases of the lungs, mediastinal organs and thoracic wall (for example, hamartomas, bronchiectases, cysts, pulmonary sequestration)
Surgical treatment of thoracic injuries (for example, hemothorax, rib fractures and their complications)
Surgical treatment of pneumothorax
Surgical treatment of hyperhidrosis
Surgical treatment of tracheal diseases (for example, tumors, stenosis)
Lung volume reduction surgery as a palliative surgical care for patients with progressive pulmonary emphysema

Other surgical options
Curriculum vitae
Prof. Heinrich Fürst has long successful experience in the area of his specialization. The key focuses of his clinical practice include surgical interventions on the endocrine glands and gastrointestinal organs, hernia repair surgery. According to the Focus magazine, he ranks among the top German specialists in surgery!
Dr. Heinrich Fürst received his medical education at Ludwig Maximilian University of Munich. From 1979 to 1981, the doctor worked at the Martha-Maria Hospital Munich. From 1981 to 2001, the doctor served as a surgeon at the University Hospital of Ludwig Maximilian University of Munich. In 1988, he became a certified Vascular Surgeon, and in 1994 he was certified as the Thoracic Surgeon. Currently, Prof. Fürst heads the Department of General, Abdominal, Vascular and Thoracic Surgery at the Martha-Maria Hospital Munich.
The successful work of a specialist is awarded by many prizes and honors. The most prestigious of them are the Nepomuk von Nussbaum Prize for his research activities and the Ferdinand Sauerbruch Prize.
Photo of the doctor: (c) Diakoniewerk Martha-Maria e. V.
---
About hospital
Accommodation in hospital
Pleural empyema (abscess)
Program [Description]
Treatment of pleural empyema (abscess) with pleurectomy and lung decortication
Hospital: Martha-Maria Hospital Munich
Type:
access_time Duration:
Price:
date_range
There are 61 pleural empyema (abscess) treatment hospitals on Booking Health website
Show all clinics
Certificates