Maternus Rehabilitation Clinic Bad Oeynhausen
Department of Neurological Rehabilitation (

323935

)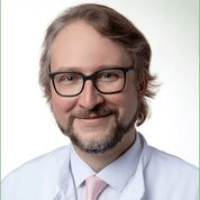 Gabriel Striewe
Specialized in: neurological rehabilitation
About the Department of Neurological Rehabilitation at Maternus Rehabilitation Clinic Bad Oeynhausen
The Department of Neurological Rehabilitation at the Maternus Clinic Bad Oeynhausen offers the full range of rehabilitation services. The patients with neurological diseases are offered the necessary diagnostics, conservative treatment and rehabilitation. The treatment process begins with the development of an individual program for each patient. The department has the latest methods of therapy, diagnostics (including computerized functional diagnostics of muscles and joints, brain, etc.). The department is headed by Gabriel Striewe.
The department specializes in A, B and C phases of neurological rehabilitation for patients with hypoxic changes in the brain, ischemic strokes, intracranial bleeding, conditions after meningitis and encephalitis, Parkinson's disease and other motor disorders.The department also performs rehabilitation after surgery to remove neoplasms in the spinal cord or brain. It also performs rehabilitation for neurotraumatological concomitant conditions, neurodegenerative conditions (early demental states, motor neuron diseases), muscular diseases, etc. In addition, the department's scope of tasks includes medical care for patients after surgeries on the brain supply and intracranial vessels, patients with multiple sclerosis, as well as intensive rehabilitation after weaning from mechanical ventilation.
Priority focuses of the department include:
Conducting diagnostic procedures: EEG, evoked potentials, extra- and intracranial duplex scanning, electroneurography, electromyography
Diagnosis and treatment of sleep-related breathing disorders after a stroke
Optimization and adaptation of pharmacological treatment
Interdisciplinary treatment of patients with swallowing disorders
Improving mobility through the development of muscle tone regulating procedures
Balance training
Walking training
Trainings of family members on using insulin syringes, gastrostomy, tracheostomy
Photo: (c) depositphotos
Department of Neurological Rehabilitation.
Maternus Rehabilitation Clinic Bad Oeynhausen:

Request more information now.
We will be happy to answer all your questions.
---