Department of Oncology and Hematology (

25842

)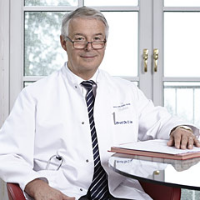 Prof. Dr. med.
Clemens Unger
Specialized in: oncology, hematology
About the department
The work of the Department of Oncology and Hematology at the Max Grundig Clinic is aimed at the treatment of malignant tumors and blood diseases. The task of doctors working in the clinic is to provide an accurate diagnosis and quality treatment with minimal restrictions to the patient and without reducing their quality of life. The department is headed by Prof. Dr. med. Clemens Urgen.
The work of the department is characterized by 3 pillars: there are offered preventive treatment programs that aim to prevent possible oncological diseases, the best treatment based on the latest medical expertise during inpatient treatment and individually developed postoperative care programs: post-therapeutic care.
The department relies on proven chemotherapy and other modern methods of cancer treatment. In addition, it uses non-conventional, supportive and alternative treatments.
The Department of Oncology and Hematology follows the motto: "Proven therapy and soothing comfort of a luxury hotel is the recipe for the successful recovery of each patient."
The service range of the Department of Oncology and Hematology includes:
Oncology
Breast cancer
Lung cancer
Pancreatic cancer
Colorectal cancer
Stomach cancer
Kidney cancer
Bladder cancer
Hematology
Chronic anemia
Chronic leukemia
Clarification of iron deficiency or vitamin B12
Continuation or onset of chemotherapy for solid tumors
Stem cell transplantation
Curriculum vitae
Prof. Dr. med. Clemens Unger studied medicine at the University of Göttingen from 1972 to 1978. Having received a PhD degree, he was involved in research in the Max Planck Institute for Biophysical Chemistry. In 1988, he completed his education and became a qualified therapist/hematologist-oncologist.
From 1993 to 2011, Prof. Dr. med. Unger was Director of the Department of Internal Oncology at the University of Freiburg. Since 2011, he was a Senior Doctor at the Center for Cancer Medicine/Freiburg.
Prof. Dr. med. Clemens Unger is a member of numerous international specialized societies, who has received many awards and honors.
Department of Oncology and Hematology.
Max Grundig Clinic Buehl:
Request more information now.
We will be happy to answer all your questions.
---
---
Certificates