Department of Gastroenterology (

25844

)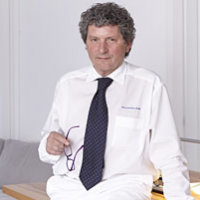 Dr. med.
Peter Maurer
Specialized in: gastroenterology
About the department
The Department of Gastroenterology deals with the diagnosis, treatment and prevention of the organs of the digestive system. Every year, it carries out about 1,000 examinations of the internal surface of the colon, which allows for early detection of tumors in the colon. In 25% of these cases doctors diagnose polyps, which are removed without pain. In this field, the department has 40 years of experience. The department closely cooperates with other specialized departments of the clinic, which allows to work out the individual treatment program for each patient as precisely as possible. The department is headed by Dr. med. Peter Maure.
The service range of the Department of Gastroenterology includes:
Abdominal pain (type or cause)
Acute abdomen
Allergic abdominal pain
Peritonitis
Concomitant pain in cardiovascular and neurological diseases
Intestinal obstruction (obstruction or paralytic ileus)
Vascular pain in the abdomen
Infections and parasitoses
Intoxication and metabolic disorders
Collagen diseases
Specific features of the organism (type or cause):
Stomach/esophagus
Achalasia and related dysphagia
Acute and chronic gastritis
Gastroesophageal reflux disease (heartburn)
Infectious dysentery (acute vomiting)
Gastric and duodenal ulcers
Lymphomas, precancerous lesions and carcinomas
Esophageal varices
Small and large bowel
Inflammatory bowel disease (Crohn's disease, ulcerative colitis)
Diverticular disease
Polyps and intestinal tumors (screening, polypectomy, EMR)
Microscopic colitis
Irritable bowel syndrome
Hemorrhoids, fissures, anal thromboses
Liver/bile/pancreas
Alcoholic and metabolic fatty liver
Amyloidosis
Autoimmune hepatitis
Ascites
Pancreatitis
Pancreatic cancer
Biliary cirrhosis
Cholangitis (bacterial or primary sclerosis)
Cholelithiasis (gallstones)
Cholecystitis (inflammation of the gallbladder)
Jaundice
Hemochromatosis
Diagnosis of the herd (abscess, adenoma, FNH, metastasis, tumor, cyst)
Drug-induced hepatopathy and cholestasis
Postcholecystectomy syndrome
Unclear increased values of "liver" (for clarification)
Viral and other non-viral hepatitis
Complexes of symptoms (type or cause):
Acute/chronic diarrhea
Allergic / anaphylactic food reaction
Bacterial colonization of the intestine
Endocrine diarrhea
Enterogenic infections (salmonellosis, clostridia, norovirus, etc.)
Diarrhea with enzyme deficiency (histamine, lactose, fructose intolerance, etc.)
Bile acid loss syndrome
Gynsonococcal fistula
Nervous diarrhea
Parasitic diarrhea (Lamblia, Amoeba, M. Whipple, Trichiuren, etc.)
Paradoxical diarrhea in case of intestinal stenosis
Sprue syndrome
Toxic diarrhea (without pathogens, e.g. drug-induced)
Constipation
Dysbacteriosis
Habitual constipation
Mechanical obstacles
Drugs or malnutrition
Indications for rehabilitation for the rehabilitation stay:
Complaints after gastrectomy or bowel removal
Chemotherapeutic follow-up treatment of gastrointestinal tumors
Functional and wound disorders after surgery on the liver / bile / pancreas
PEG or parenteral nutrition in severe malabsorption or palliative care
Treatment of pain due to chronic visceral hyperalgesia
In addition, since recently the department has offered video capsule endoscopy of the large and small intestine. This examination method is especially useful if patients need non-invasive and safe screening for a colorectal tumor. Also, capsule endoscopy is an excellent alternative to conventional examination.
When examining the colon, the new method involves swallowing of a small capsule containing two chambers that remove the passage through the intestine. It captures up to 35 images per second, which allows an excellent assessment of the intestinal mucosa in a well-prepared colon. Polyps and other changes can be displayed in very good quality.
When examining the small intestine, a person swallows a capsule with miniature video cameras (slightly larger than a standard tablet), 26x11 mm in size. The video cameras produce approx. 80,000 images of the small intestine for 8 hours, after which they are sent to an electronic receiver, which patients wear on the waist belt.
Capsule endoscopy is excellent for diagnosing small intestinal diseases, especially in case of unclear bleeding from the gastrointestinal tract or for clarifying chronic anemia, if the previous gastric or colonoscopy has not been adequately explained. In addition, this method is used by default for inflammatory bowel disease and for suspicion of small intestinal tumors.
Compared to traditional radiological and endoscopic methods, this procedure has the following main advantages:
Simple and non-invasive alternative
Lack of contrast medium
Lack of sedation or anesthesia
Lack of radiation exposure
During the examination, the patient can live an everyday life without any restrictions
Curriculum vitae
Dr. med. Peter Maurer was born in 1951 in the town of Stühlingen, near Lake Constance. From 1969 to 1976 he studied chemistry at the University of Freiburg, where he was later engaged in research and teaching and received his doctorate in biochemistry. At the same time, from 1976 to 1981, he studied medicine, and since 1983 has worked as a doctor at the University Hospital Freiburg. At the same time, from 1976 to 1981, he studied medicine, and since 1983 has worked as a doctor at the University Hospital Freiburg.
Since 1990, Dr. Maurer has been the Chief Physician of the Department of Gastroenterology at the Max Grundig Clinic. He is also the Chief Physician of the Department of Internal Medicine and the Diagnostic Center.
Department of Gastroenterology.
Max Grundig Clinic Buehl:
Request more information now.
We will be happy to answer all your questions.
---
---
Certificates