Department of Gastroenterology (

25844

)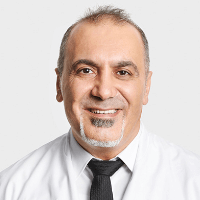 PD Dr. med.
Alisan Kahraman
Specialized in: gastroenterology
About the Department of Gastroenterology at Max Grundig Clinic Buehl
The Department of Gastroenterology at the Max Grundig Clinic Buehl offers the full range of high quality medical services in this medical field. The department's doctors specialize in the diagnostics and treatment of gastrointestinal diseases, including stomach, bowel, esophageal, liver, gallbladder and pancreatic diseases. The department has an excellent medical and technical base to provide the patients with top-class medical services. The department cooperates closely with the doctors from other medical disciplines, including specialists in the field of psychosomatics, thanks to which the patients benefit from comprehensive medical care. In addition, the department effectively cooperates with the renowned Colon Cancer Center Mittelbaden. The Chief Physician of the department is PD Dr. med. Alisan Kahraman.
The medical facility has an in-house Endoscopy Unit, which performs a variety of diagnostic and therapeutic procedures. For example, it performs more than 1,000 colonoscopies every year. Recently, the department has successfully used the method of video capsule endoscopy for the diagnostics of the large and small intestines. This diagnostic method is especially important and effective when a patient needs non-invasive and safe screening for colorectal cancer, which is currently ranked among the most common types of cancer worldwide. The essence of the method is as follows: the patient swallows a special capsule equipped with one or two miniature cameras. When moving along the gastrointestinal tract, the device reproduces images and transmits information to the recording receiver. The doctor analyzes the data obtained and makes a conclusion. After some time, the capsule will be naturally excreted from the human body.
The department offers its patients a unique opportunity to undergo post-hospital rehabilitation after the basic treatment of gastrointestinal diseases. Such rehabilitation treatment plays a particularly important role for the patients who have undergone surgery. Post-hospital rehabilitation is most often indicated for the patients who suffer from pain after gastrectomy or removal of a part of the intestine, functional disorders and impaired wound healing after interventions on the liver, gallbladder, pancreas, poor health after chemotherapy, chronic visceral hyperalgesia, etc.
The department's main clinical focuses include:
Diagnostics and treatment of general abdominal pain

Acute abdomen
Abdominal pain caused by allergic diseases
Peritonitis
Abdominal pain caused by vascular diseases, circulatory disorders and neurological disorders
Bowel obstruction (obturation or paralytic intestinal obstruction)
Infectious diseases of the gastrointestinal tract and parasitosis
Intoxication and metabolic disorders
Collagenoses

Diagnostics and treatment of stomach and esophageal diseases

Achalasia cardia and associated swallowing disorders
Acute and chronic gastritis
Gastroesophageal reflux disease
Dysentery
Gastric and duodenal ulcers
Lymphomas, precancerous conditions and gastrointestinal cancers
Esophageal varices

Diagnostics and treatment of diseases of the small and large intestines

Chronic inflammatory bowel disease (Crohn's disease and ulcerative colitis)
Diverticular disease
Intestinal polyps and tumors (screening, polypectomy and endoscopic mucosal resection)
Microscopic colitis
Irritable bowel syndrome
Hemorrhoids, anal fissures and anal thrombosis

Diagnostics and treatment of diseases of the liver, gallbladder, pancreas

Alcoholic liver disease and fatty liver disease
Amyloidosis
Autoimmune hepatitis
Ascites
Pancreatitis (pancreatic inflammation)
Pancreatic edema
Biliary cirrhosis
Cholangitis (bacterial or primary sclerosing)
Gallstone disease (cholelithiasis)
Cholecystitis
Jaundice
Hemochromatosis
Focal pathologies (abscesses, adenomas, focal nodular hyperplasia, metastases, tumors, cysts)
Drug-induced liver injury and cholestasis
Postcholecystectomy syndrome
Viral and non-viral hepatitis

Diagnostics and treatment of acute and chronic diarrhea

Endocrine diarrhea
Diarrhea caused by enzyme deficiency (intolerance to histamine, lactose, fructose, etc.)
Diarrhea caused by enterogenic infections (salmonellosis, clostridia, norovirus, etc.)
Anxiety diarrhea
Parasitic diarrhea
Toxic diarrhea (without any signs of pathogens, such as drugs)

Diagnostics and treatment of constipation
Medical rehabilitation after surgical gastrointestinal surgery, chemotherapy for gastrointestinal cancers, etc.
Diagnostics and treatment of other gastrointestinal diseases
Curriculum vitae of PD Dr. med. Alisan Kahraman
PD Dr. med. Alisan Kahraman is the Head of the Department of Gastroenterology at the Max Grundig Clinic Buehl. The doctor studied Human Medicine at the Universities of Bochum and Essen. After receiving his medical education, the specialist worked as Assistant Physician in the Department of Gastroenterology and Hepatology at the University Hospital Essen. From September 2006 to November 2007, Dr. Alisan Kahraman was involved in liver disease research projects at the world famous Mayo Clinic in Rochester, USA. In 2011, the doctor completed his board certification in Internal Medicine. In 2015, he had his board certification in Gastroenterology, Hepatology and Infectology. Since the summer of 2020, Dr. Alisan Kahraman has been the Chief Physician of the Department of Gastroenterology at the Max Grundig Clinic Buehl.
Photo of the doctor: (c) Max Grundig Klinik Bühlerhöhe
Department of Gastroenterology.
Max Grundig Clinic Buehl:

Request more information now.
We will be happy to answer all your questions.
---