Department of Orthopedics (

25845

)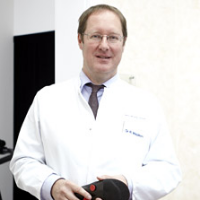 Dr. med.
Rene Malzkorn
Specialized in: orthopedics
About the department
The Department of Orthopedics offers the full range of medical services in the field of orthopedics, prevention, detection and treatment of congenital and acquired deformities or impaired functioning of the musculoskeletal system: bones, joints, muscles and tendon. The department is mainly focused on inpatient rehabilitation for musculoskeletal dysfunction, which is often needed after surgery, such as hip or knee replacement or spine surgery. The department is headed by Rene Malzkorn.
The individual rehabilitation programs are discussed with the patient as part of a therapy plan, which should facilitate the quickest possible return of the patient to everyday life. The therapy process is supported by the modern physiotherapy facilities, multimodal elements in the field of occupational therapy and psychotherapy, as well as by nutrition counseling.
The service range of the Department of Orthopedics includes:
Inflammatory diseases of the musculoskeletal system
Rheumatoid arthritis
Polymyalgia rheumatica
Seronegative spontaneous arthritis
Enteropathic arthritis in ulcerative colitis, Crohn's disease
Arthritis associated with the virus
Collagenoses, such as lupus erythematosus, scleroderma
Giant cell arteritis
Arthropathies in metabolic disorders
Non-inflammatory disorders of the musculoskeletal system
Coxarthrosis (hip osteoarthritis)
Gonarthrosis (knee arthrosis)
Finger polyarthrosis
Activated arthrosis
Lumbar
Thoracic syndrome
Cervical
Cervical root compression syndrome
Hyperostotic spondyloarthritis
Painful tendon stimulus
Tendinopathy, endotherapy insertions
Osteoporosis
Fibromyalgia syndrome (FMS)
Myofascial pain syndrome
Bone tumors
Bone metastases
Curriculum vitae
Dr. med. Rene Malzkorn was born in 1967. From 1986 to 1988, he received education in physiotherapy at the University Düsseldorf. From 1990 to 1998, he also studied medicine and received a doctorate at the University Düsseldorf. Then the doctor had an advanced training in surgery at the Calw Clinic.
From 2003 to 2006, Dr. Malzkorn worked in the Department of Spine Surgery at the SRH Karlsbad-Langensteinbach, where from 2006 to 2011 he headed the outpatient clinic specializing in interventional therapy and counseling for children with spinal deformities. Since then, Dr. Malzkorn has been the head of his medical practice for conservative treatment in Nagold.
Since 2011, Dr. Malzkorn has been a medical advisor at the Max Grundig Clinic.
Department of Orthopedics.
Max Grundig Clinic Buehl:
Request more information now.
We will be happy to answer all your questions.
---
---
Certificates