MEDIAN Rehabilitation Clinic am Burggraben Bad Salzuflen
Department of Internal Medicine, Cardiology, Pulmonology and Allergology (

25862

)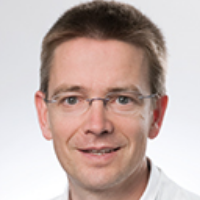 Dr. med.
Stefan Schüth
Specialized in: internal medicine, pulmonology, cardiology
About the department
The Department of Internal Medicine, Cardiology, Pulmonology and Allergology at the MEDIAN Rehabilitation Clinic am Burggraben Bad Salzuflen specializes in the rehabilitation of patients who have experienced surgery and internal diseases. These are mainly lung diseases, cardiovascular diseases, endocrine disorders, diseases of the gastrointestinal tract, liver, bile ducts, pancreas and kidneys. The department is headed by Dr. med. Stefan Schüth.
Both doctors and therapists working in the department prefer an individual approach, and therefore rehabilitation goals are determined for each patient individually, with due consideration of their needs and wishes. These goals, on the one hand, are aimed at eliminating the effects of the background disease, and, on the other hand, the improvement of the patient's current condition is of paramount importance as well. The main goal of rehabilitation is to restore mobility, human performance, as well as to return person's former independence.
The basis of rehabilitation is physical activity, which leads to the improvement in the patient's health and prolongs their life. Consequently, in order to increase physical endurance and mobility, one should do many exercises and not lead a sedentary lifestyle. To independently continue rehabilitation at home and apply all the knowledge obtained during the recovery, each patient needs to become a therapist for themselves.
The department offers a wide range of rehabilitation services for the patients who have experienced the following surgical interventions and diseases:
Pulmonology and allergology
Bronchial asthma
Chronic bronchitis
Chronic obstructive pulmonary disease (COPD)
Pulmonary emphysema
Inflammation of the lungs (pneumonia)
Lung surgery (incl. surgery to remove tumors of the mediastinum, pleura and lungs)
Surgery for pulmonary embolism and thrombosis
Pulmonary arterial hypertension (PAH)
Sarcoidosis
Allergic alveolitis and other interstitial lung diseases
Occupational lung diseases
Pneumoconiosis, collagenosis, bronchiectasis
Cardiology and angiology
Ischemic heart disease (IHD) with and without myocardial infarction, balloon dilatation and stenting, angina pectoris
Coronary artery bypass grafting, heart valve replacement, surgery to treat heart failure
Pacemaker, ICD implantation
Heart arrhythmias, e.g., atrial fibrillation
Heart failure
Cardiomyopathies
Inflammatory heart diseases, myocarditis, pericarditis
Vascular surgery
Peripheral artery occlusion
Hypertension
Pulmonary hypertension
Endocrinology
All forms of diabetes, including complications and diabetic foot syndrome, accompanied by other conditions
Disorders of lipid metabolism, hyperuricemia, gout
Thyroid diseases (e.g., hyperthyroidism, hypothyroidism)
Adrenal gland disorders (Cushing's syndrome, Addison's disease, Conn's syndrome, pheochromocytoma)
Gastroenterology
Gastrointestinal surgery, including short bowel syndrome, stoma
Diverticulitis
Surgery to treat diverticulitis
Stomach surgery
Small bowel surgery (with the exception of Crohn's disease and ulcerative colitis)
Diseases of the liver, bile duct and pancreas, surgery to treat these diseases
Pancreatitis
Nephrology
Kidney failure
Dialysis
Kidney surgery
Department of Internal Medicine, Cardiology, Pulmonology and Allergology.
MEDIAN Rehabilitation Clinic am Burggraben Bad Salzuflen:

Request more information now.
We will be happy to answer all your questions.
---
Certificates