MEDIAN Rehabilitation Clinic am Burggraben Bad Salzuflen
Department of Orthopedic Rehabilitation (

25864

)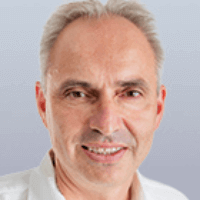 Dr. med.
Franz Josef Picard
Specialized in: orthopedic rehabilitation
About the Department of Orthopedic Rehabilitation at MEDIAN Rehabilitation Clinic am Burggraben Bad Salzuflen
The Department of Orthopedic Rehabilitation at the MEDIAN Rehabilitation Clinic am Burggraben Bad Salzuflen offers a wide range of rehabilitation measures for the recovery of patients suffering from musculoskeletal diseases and injuries. The department's medical team has rich and successful experience in the rehabilitation of patients after joint replacement surgery, corrective osteotomy, surgical interventions on the spine, soft tissues, bones, etc. The treatment concept is based on the use of classical rehabilitation methods in combination with the elements of naturopathy and traditional Chinese medicine. Each rehabilitation program is thought out to the very smallest detail and meets the individual needs of a particular patient. The main goal of all the department's doctors is the elimination of pain and the maximum restoration of the patient's mobility, which allows him to return to his usual everyday life. The department is headed by Dr. med. Franz Josef Picard.
The only effective way to restore mobility is dosed physical activity. Each patient and his clinical case is unique, and therefore they require a personalized approach. When admitted to the department, rehabilitation therapists carefully study the patient's medical history, assess the condition of his musculoskeletal system and general health, after which they make conclusions about the patient's rehabilitation potential and determine the rehabilitation goals. When providing rehabilitation treatment to patients with chronic and degenerative diseases, the doctors set themselves such main goals as the elimination of pain, training of muscles and endurance, as well as prevention of the progression of pathology. The patients admitted for rehabilitation after knee and hip replacement surgery or spinal surgery require not only elimination of pain, but also restoration of mobility. Motor skills often have to be restored from scratch. In addition, these patients require occupational therapy to restore self-care and housekeeping skills. Psychological care is a mandatory component of all rehabilitation programs. Severe pain, inability to move independently, loss of self-care skills and other consequences of orthopedic diseases have a negative impact on the patient's psychological state, contributing to apathy and depression, which in turn impede the success of rehabilitation treatment. The department's rehabilitation therapists hold special consultations and training sessions for patients, during which they talk about orthopedic diseases, treatment methods and preventive measures to maintain the health of the musculoskeletal system.
The orthopedic rehabilitation programs often include physiotherapy and physical therapy, therapeutic exercises, medical training therapy, kinesiotherapy, infiltration therapy, occupational therapy, relaxation techniques, swimming and other rehabilitation activities. Some types of therapy can be held in groups, but still the preference is given to individual training under the careful supervision of doctors. Thus, the specialists can monitor the dynamics of the patient's musculoskeletal system recovery and adapt the intensity of training depending on the progress of therapy. The patients of working age are offered therapy for the restoration of professional skills at a simulated workplace.
The department specializes in rehabilitation of patients who had the following diseases and injuries, as well as surgical interventions on the musculoskeletal system:
Degenerative musculoskeletal diseases
Chronic inflammatory musculoskeletal diseases
Consequences of musculoskeletal injuries, including spinal injuries
Pathological conditions after knee and hip joint replacement surgery
Pathological conditions after corrective osteotomy
Pathological conditions after soft tissue surgery
Pathological conditions after spinal surgery (for example, surgery for herniated discs, scoliosis, spinal fusion, etc.)
Other diseases and pathological conditions
The department's range of rehabilitation services includes:
Physiotherapy and physical therapy
Therapeutic exercises (individual and in groups)
Medical training therapy
Kinesiotherapy
Pain therapy
Infiltration therapy
Occupational therapy
Relaxation techniques
Psychotherapy
Diet therapy
Consultations on nutrition and lifestyle modification in diabetic patients
Water aerobics and swimming
Restoration of professional skills at a simulated workplace, including a preliminary assessment of the rehabilitation potential
Other therapies
Photo of the doctor: (c) MEDIAN Klinik am Burggraben Bad Salzuflen
Department of Orthopedic Rehabilitation.
MEDIAN Rehabilitation Clinic am Burggraben Bad Salzuflen:

Request more information now.
We will be happy to answer all your questions.
---
Certificates