MEDIAN Rehabilitation Clinic Schlangenbad
Department of Internal Medicine, Rheumatology (

25928

)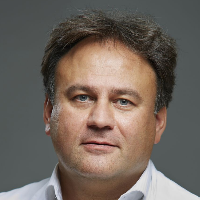 Dr. med.
Sinan Cilaci
Specialized in: internal medicine, rheumatology
About the department
In cooperation with the Department of Orthopedics, the department offers special therapy for patients with degenerative rheumatic diseases, such as arthrosis, spondylarthrosis and disc deformities.
Patients with internal rheumatological diseases who need to be taken care of after their stay in the clinic are provided with follow-up procedures.
In addition, the Department offers the full range of conservative orthopedics treatment. Inpatient and outpatient treatment (AHB), rehabilitation procedures, treatment of acute and chronic orthopedic rheumatological disorders are carried out.
The clinic provides treatment for diseases and injuries of the musculoskeletal system. The range of medical services includes postoperative treatment, such as treatment after implantation of artificial joints in the hip, knee, shoulder, ankle, elbow, hand or fingers. Such implantation is usually performed after sustaining injuries during accidents. Thanks to rehabilitative care and constant exercising, patients observe significant improvement of their physical abilities.
The only effective way to improve the patients` mobility is apply the right amount of exercise and trainings. Orthopedic rehabilitation is primarily a "physical" work, which involves a deep relearning and training of successive movements.
To increase self-confidence and exercise better control over the body, both traditional and modern methods of treatment are used. Assistance in everyday activities and the repetition of certain movements within the framework of therapy plays an important role in the recovery process.
Since many diseases of the spine and joints develop as a result of obesity or metabolic disorders, dieticians at the clinic teach patients how to eat and enjoy healthy food. Thus, during therapy, appears a new method for treating chronic diseases.
The range of services includes:
Therapeutic competence

The therapeutic competence of the department is based on the treatment of multiple functional diseases in accordance with the classification of ICF (International Classification of Functionality, Disability and Health). It includes agreed on and/or constructive medical, physiotherapeutic, ergo and psychotherapeutic procedures. Another goal of rehabilitation is to evoke patients' motivation for active participation in the fight against diseases, return them working life and life in society.
Diagnostics
Traditional X-ray examination
Laboratory studies, including rheumatology
Ultrasound examination (ultrasonography) of the abdominal cavity, thyroid gland, joints and soft tissues
ECG
Lung function test (spirometry)
Therapy
Full body camera (-70 ° C to -90 ° C)
Physical training
Physiotherapy
Endurance training
Sports therapy (including therapeutic therapy, walking, aqua-fitness)
Breathing exercises
Electrotherapy
Massage
Functional professional therapy (support of specialists, self-help)
Seminars on Health
Psychotherapeutic conversations one on one
Psychological seminars and lectures on stress management and pain management
Relaxation methods
Training on Health (including back exercises)
Consultations on health and nutrition issues
Social counseling
Professional training
Therapeutic local anesthesia / neuronal therapy
Injections / joint injections / spinal injections
Modern medicines
Treatment therapy (leisure)
Department of Internal Medicine, Rheumatology.
MEDIAN Rehabilitation Clinic Schlangenbad:

Request more information now.
We will be happy to answer all your questions.
---
Certificates