MEDIAN Rehabilitation Clinic Bad Gottleuba Berggiesshuebel
Department of Orthopedic Rehabilitation (

25880

)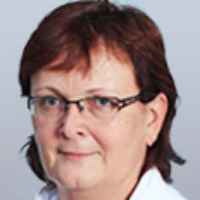 Dr. med.
Karin Müller
Specialized in: orthopedic rehabilitation
About the department
The Department of Orthopedic Rehabilitation at the MEDIAN Rehabilitation Clinic Berggiesshuebel is engaged in the rehabilitation of patients with diseases and injuries of the entire musculoskeletal system. Particular attention is paid to the rehabilitation of patients with all forms of arthritis, intervertebral disc diseases, arthrosis and osteoporosis. The department is headed by Dr. med. Karin Müller.
The only effective way to improve mobility is a properly selected physical load. Therefore, orthopedic rehabilitation is primarily based on the "individual approach", which implies both thorough retraining and restoration of the movements that a person usually learns in childhood. The patient's rehabilitation is considerably influenced by daily activities and constant repetition of certain movements within the framework of the occupational therapy. In addition, this type of therapy helps patients develop their creativity.
It is known that many diseases of the spine and joints develop due to excess weight or metabolic disorders, and therefore the department employs experienced nutritionists who advice on the healthy, and yet delicious nutrition.
In addition, the department offers a wide range of diagnostic capabilities. These include the Clinical Chemistry Laboratory with the option of serological diagnostic testing for rheumatism, ultrasound examinations, X-ray, including tomography, internal diagnostics, functional diagnostics for the use of manual therapy, ergometry, isokinetic diagnostics for muscle strength measurement, pulmonary function testing.
The department offers rehabilitation of patients after the following diseases and surgical procedures:
Degenerative joint and spinal diseases (e.g., osteoarthritis, intervertebral disc diseases)
Inflammatory joint and spinal diseases (e.g., Bechterew's disease, polyarthritis)
Osteoporosis and its consequences
Extremity amputation
Neurological disorders accompanied by dysfunctions (e.g., paraplegia with Th10 muscle paralysis)
Chronic pain in the spine, back and joints
Diseases of the muscles, tendons and soft tissues
Endoprosthetics (e.g., hip, knee joint replacement surgery)
Spine surgery (e.g., intervertebral disc surgery, vertebral body replacement surgery, spinal fusion)
Consequences of injuries of the musculoskeletal system (eg, fractures, ligament damage)
The main therapeutic options of the Department of Orthopedic Rehabilitation include:
Physiotherapy, incl. PNF (proprioceptive neuromuscular facilitation)
Spinal extension (on a special table)
Chiropractic
Manual therapy
Water aerobics and swimming
Training for muscle building and strengthening
Training on ergometer use and training on a treadmill
Sports therapy
Psychotherapy
Biofeedback-Training
Occupational therapy
Relaxation
Exercises for the joints and back
Professional stress testing
Therapeutic massages
Manual lymphatic drainage
Electrotherapy, electromyostimulation (EMS)
Hydrotherapy, CO²
Baths, hydromassages
Thermotherapy, incl. fango paraffin wraps / cryotherapy
Pain therapy, incl. acupuncture
Neurotherapy
Training at the working place
Department of Orthopedic Rehabilitation.
MEDIAN Rehabilitation Clinic Bad Gottleuba Berggiesshuebel:

Request more information now.
We will be happy to answer all your questions.
---
Certificates