MEDIAN Rehabilitation Clinic Bad Gottleuba Berggiesshuebel
Department of Orthopedic Rehabilitation (

25880

)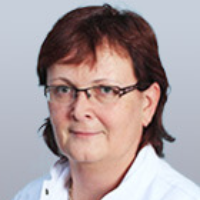 Dr. med.
Karin Müller
Specialized in: orthopedic rehabilitation
About the Department of Orthopedic Rehabilitation at MEDIAN Rehabilitation Clinic Bad Gottleuba Berggiesshuebel
The Department of Orthopedic Rehabilitation at the MEDIAN Rehabilitation Clinic Berggiesshuebel offers a wide range of modern rehabilitation measures to relieve pain and eliminate movement disorders developed due to musculoskeletal diseases or injuries. Of particular interest is the rehabilitation treatment of arthritis, herniated disc, arthrosis and osteoporosis. The department admits many patients who had surgical interventions on the spine, joints, bone and muscle tissues. The department is headed by Dr. med. Karin Müller.
The rehabilitation is based on an integrated approach, which implies a competent combination of all available therapeutic methods to maximally restore the patient's mobility and independence in everyday life. When admitted to the department, the attending physician carefully studies the patient's medical history, carries out the necessary diagnostic tests to assess the severity of pathological changes and dysfunction of the musculoskeletal system, after which he elaborates an effective rehabilitation program with particular goals and terms of treatment. If the pathological lesions of the musculoskeletal system are not very serious and the patient's health condition allows for outpatient rehabilitation, the department's doctors prefer this treatment regimen, since it is quite difficult for some people to constantly stay in the hospital.
The main rehabilitation methods that the department successfully applies include therapeutic exercises, physiotherapy, massage, water aerobics, training on special exercise equipment, ergotherapy and others. During the entire period of rehabilitation, the rehabilitation therapists monitor and, if necessary, adjust the intensity of training – increase or decrease it. When undergoing orthopedic rehabilitation, many patients practically master gross motor skills from the very beginning and train to control their body. All the rehabilitation procedures are carried out under strict medical supervision, which eliminates any risks to the patient's health.
In addition to the specialists in therapeutic exercises, occupational therapy and physiotherapy, an experienced team of nutritionists works with the patients. They teach the patients how to cook healthy food in a special training kitchen. Since orthopedic diseases and injuries contribute to a sedentary lifestyle, the patients often become overweight or suffer from metabolic disorders. Therefore, a healthy and balanced diet is an integral part of comprehensive rehabilitation. A moderate weight also reduces load on joints and the entire musculoskeletal system. During orthopedic rehabilitation, the patients often manage to get rid of many chronic diseases, quit bad habits and start a healthy lifestyle.
The department specializes in the rehabilitation of patients after the following musculoskeletal diseases and injuries:
Degenerative diseases of the joints and spine (for example, arthrosis, spinal disc herniation)
Inflammatory diseases of the spine and joints (for example, ankylosing spondylitis, polyarthritis)
Osteoporosis and its consequences
Neurological disorders accompanied by functional disorders of the musculoskeletal system (for example, paraplegia with paralysis)
Chronic pain in the spine, back and joints
Diseases affecting the muscles, tendons and soft tissues
Pathological conditions after limb amputation
Pathological conditions after joint replacement surgery (hip, knee, elbow and shoulder joints)
Pathological conditions after spinal surgery (intervertebral disc replacement, vertebral body replacement, spinal fusion, etc.)
Consequences of musculoskeletal injuries (for example, consequences of fractures, sprains and ligament ruptures, etc.)
Other orthopedic diseases and injuries
The range of the department's diagnostic and therapeutic services includes:
Diagnostic tests

Laboratory tests, including serological tests for rheumatic diseases
Ultrasound scanning
X-ray scans, including tomography scans
Functional diagnostics prior to manual therapy
Isokinetic muscle testing
Pulmonary function testing

Rehabilitation methods

Therapeutic exercises, including proprioceptive neuromuscular facilitation
Spinal traction on a special traction table
Manual therapy
Water aerobics and swimming
Ergotherapy
Strength training to build muscles
Ergometer and treadmill training
Sports therapy
Psychotherapy
Biofeedback
Relaxation techniques
Therapeutic massage
Manual lymphatic drainage
Underwater jet massage
Electrotherapy and electromyostimulation
Therapeutic baths
Thermotherapy, including paraffin wraps
Cryotherapy
Pain therapy, including acupuncture
Neural therapy
Training at a simulated workplace to restore lost professional skills

Other diagnostic and therapeutic options
Photo of the doctor: (c) MEDIAN Klinik Berggießhübel
Department of Orthopedic Rehabilitation.
MEDIAN Rehabilitation Clinic Bad Gottleuba Berggiesshuebel:

Request more information now.
We will be happy to answer all your questions.
---
Certificates