MEDIAN Rehabilitation Clinic Hohenfeld Bad Camberg
Department of Orthopedic Rehabilitation (

25850

)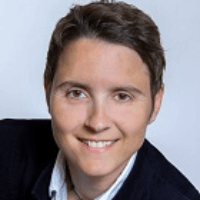 Dr. med.
Nadja Breijawi
Specialized in: orthopedic rehabilitation
About the Department of Orthopedic Rehabilitation at MEDIAN Rehabilitation Clinic Hohenfeld Bad Camberg
The Department of Orthopedic Rehabilitation at the MEDIAN Rehabilitation Clinic Hohenfeld Bad Camberg offers highly effective medical rehabilitation for patients with pathologies of the musculoskeletal system, including especially severe ones. The department's specialists provide rehabilitation for patients after joint replacement surgery, spinal surgery and limb amputation. The department also regularly deals with the treatment of patients suffering from chronic pain, for example, chronic pain in the back or joints. The department is headed by Dr. med. Nadja Breijawi.
Medical care in the department is based on an individual approach to each patient, which contributes to achieving the best result – 99% of patients restore mobility after rehabilitation, while 85% of patients get rid of pain. The medical facility offers inpatient and outpatient rehabilitation programs. Much attention is paid to the training of patients, so that they can continue their rehabilitation activities at home upon completion of treatment in the clinic.
The only effective method of restoring mobility after an orthopedic disease or intervention on the musculoskeletal system is regular dosed physical activity. Many patients regain their gross motor skills and learn to walk, so they require individual training with rehabilitation therapists who monitor proper movement performance, motivate the patients and, if necessary, adjust the intensity of the exercises. Occupational therapy is also an integral part of rehabilitation, as it helps the patient to restore self-care skills – personal hygiene, dressing, eating, etc. The department's competent nutrition specialists hold nutrition counseling, during which they tell patients about a healthy diet, which will help prevent metabolic disorders and obesity, since orthopedic diseases often lead to decreased physical activity. Whenever required, the patients receive professional psychological care.
The patients of working age are offered medical profession-oriented rehabilitation, the main goal of which is to restore professional skills, train endurance and self-control. The patients working in the office train at a specially equipped work desk, which simulates an office workplace. The restoration of work capacity is achieved by performing the same actions at the desk and gradually increasing the load. When restoring professional skills in patients with professions that imply work in a factory, construction site, production, etc., the doctors use modern computer programs, which simulate the work process by setting a certain complex of tasks for a person.
The department specializes in orthopedic rehabilitation for the following musculoskeletal diseases and injuries:
Congenital and acquired musculoskeletal diseases and functional disorders, including arthrosis
Osteoporosis and other pathologies of bone tissue
Rheumatic diseases
Spinal diseases, including postural disorders and herniated discs
Sports injuries and injuries caused by physical overload during sports
Consequences of musculoskeletal injuries
Pathological conditions after knee, hip, shoulder, elbow and ankle replacement surgery
Pathological conditions after spinal surgery, including spinal fusion
Pathological conditions after limb amputation
Pathological conditions after severe musculoskeletal injuries caused by accidents
Other orthopedic diseases and pathological conditions
The range of the department's diagnostic and therapeutic services includes:
Diagnostic tests

Classical X-ray imaging
Bone mineral density measurement (densitometry, DEXA)
Ultrasound examinations of the joints, muscles and tendons
Stress and resting electrocardiography
24-hour Holter monitoring
24-hour blood pressure monitoring
Pulmonary function testing
Laboratory diagnostics, including serological tests for rheumatic diseases

Rehabilitation methods

Therapeutic exercises, including in water (individually and in groups)
Electrotherapy
Healing baths
Medical training therapy
Regular and Nordic walking
Aquajogging
Galileo training
Functional occupational therapy
Naturopathy, including Kneipp therapy
Modern treatments for chronic wounds
Nutrition counseling, including classes in the training kitchen
Relaxation techniques
Training to relieve stress and pain
Medical profession-oriented rehabilitation

Other medical services
Curriculum vitae of Dr. med. Nadja Breijawi
Dr. med. Nadja Breijawi heads the Department of Orthopedic Rehabilitation at the MEDIAN Rehabilitation Clinic Hohenfeld Bad Camberg. The doctor studied medicine at the Johannes Gutenberg University of Mainz. Then she underwent specialized training in orthopedics, after which she has been working for three years as Assistant Physician in the Department of Orthopedics at the Harz Clinic. In 2007, Dr. med. Nadja Breijawi continued her work in the Rhine-Main region. Before joining the MEDIAN Rehabilitation Clinic Hohenfeld Bad Camberg, she worked in the Department of Adult and Pediatric Orthopedics, Trauma Surgery at the University Hospital Mainz. The treatment of bone and rheumatic diseases is of particular clinical interest to the doctor.
Photo of the doctor: (c) MEDIAN Hohenfeld-Klinik Bad Camberg
Department of Orthopedic Rehabilitation.
MEDIAN Rehabilitation Clinic Hohenfeld Bad Camberg:

Request more information now.
We will be happy to answer all your questions.
---
Certificates