MEDIAN Rehabilitation Clinic Kaiserberg Bad Nauheim
Department of Hearing Impairment, Tinnitus and Dizziness (

25854

)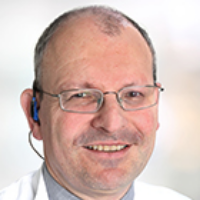 Dr. med.
Roland Zeh
Specialized in: hearing impairment, tinnitus, dizziness
About the Department of Hearing Impairment, Tinnitus and Dizziness at MEDIAN Rehabilitation Clinic Kaiserberg Bad Nauheim
The Department of Hearing Impairment, Tinnitus and Dizziness at the MEDIAN Rehabilitation Clinic Kaiserberg Bad Nauheim specializes in the rehabilitation of patients with hearing loss, deafness, chronic tinnitus, hyperacusis, dizziness, balance disorders and patients who have undergone cochlear implantation. To ensure high quality and effective rehabilitation, the department is equipped with modern diagnostic equipment and offers all the necessary methods to restore hearing. The department is headed by Dr. med. Roland Zeh.
With the help of audio therapy and psychological support, patients with hearing loss and deafness can develop new communication methods and mechanisms for overcoming hearing problems in order to better cope with their hearing impairments and auditory system in everyday life. Also, it helps to study new forms of communication. The therapy is based on a detailed ENT medical and audiological diagnostics with the identification of human communication capabilities. It is carried out to identify the existing problems with hearing and communication in both professional and private daily life. This diagnosis serves as the basis for the development of targeted rehabilitation.
One of the most important focuses of the department is the rehabilitation of patients with tinnitus (ringing in the ears). Since medicine can not offer treatment to completely eliminate or relieve tinnitus, the therapy aims to conceal tinnitus from conscious perception, and consequently the person will no longer perceive it as disturbing. Many patients with chronic tinnitus can also suffer from hyperacusis, which is an increased sensitivity to noise, even normal noise from the environment is perceived as too loud and disturbing. The therapy is aimed at the restoration of sound filters by adjusting, re-evaluating the acoustic environment, listening in a more relaxed state, as well as by overcoming fears and a certain manner of behavior.
In many cases, patients with tinnitus or hearing impairment also experience dizziness, since the inner ear is related to the vestibular apparatus. Vestibular disorders can occur without concomitant tinnitus or hearing impairment as well. Dizziness can often be caused by disease of the vestibular system, but the condition can also be caused by problems with blood circulation, diseases of the internal organs, orthopedic or neurological disorders. That is why it is important to make an accurate diagnostics that will help to identify the causes of dizziness and begin targeted treatment. In addition, the dizziness or its exacerbation may be caused by fears or other mental disorders. The therapy for the treatment of patients with dizziness is aimed at improving body sensation and coordination through a specially elaborated training program that will contribute to a safer everyday life.
Among other things, the department deals with the restoration of hearing in patients with cochlear implants. To this end, the department offers an intensive rehabilitation program for these patients, which includes daily individual listening to certain materials, daily group training and independent practice with a PC. The rehabilitation aims to improve speech understanding and hearing adjustment after cochlear implantation. The specialists of the department carry out a group work to develop methods of communication for patients with severe clinical pictures. During the rehabilitation, all patients also undergo physical therapy and perform a certain set of physical exercises.
The Department of Hearing Impairment, Tinnitus and Dizziness offers a wide range of diagnostic services:
Audio and speech audiometry
Free-field measurements of a hearing aid
Electroaudiometry (auditory nerve examination)
Brainstem audiometry
Otoacoustic emission
Computer nystagmography (video-assisted) for balance examination
Tinnitus diagnostics (Matching und Masking)
The therapeutic possibilities of the department include:
Balance restoring program
Lectures and training
Discussion groups (thematic)
Individual psychological counseling
Progressive muscle relaxation
Tai Chi
Audiotherapy
Consultations on the use of additional hearing aids
Communication training
Music therapy
Hearing training
Physiotherapeutic procedures
Medical training therapy
Differentiated massage procedures
Fango
Electrotherapy
Ultrasound therapy
Therapeutic pool
Photo of the doctor: (c) MEDIAN Kaiserberg-Klinik Bad Nauheim
Department of Hearing Impairment, Tinnitus and Dizziness.
MEDIAN Rehabilitation Clinic Kaiserberg Bad Nauheim:

Request more information now.
We will be happy to answer all your questions.
---
Certificates