MEDIAN Rehabilitation Clinic Kaiserberg Bad Nauheim
Department of Orthopedic Rehabilitation (

25855

)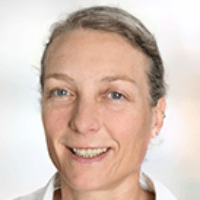 Dr. med.
Barbara Schmitt
Specialized in: orthopedic rehabilitation
About the Department of Orthopedic Rehabilitation at MEDIAN Rehabilitation Clinic Kaiserberg Bad Nauheim
The Department of Orthopedic Rehabilitation at the MEDIAN Rehabilitation Clinic Kaiserberg Bad Nauheim offers the full range of medical services in the field of rehabilitation treatment for patients with musculoskeletal diseases and injuries. The department's clinical practice focuses on rehabilitation after knee and hip replacement surgery, surgical procedures for spinal disc herniation, spinal fractures, fusion, limb amputation and other orthopedic interventions. In addition, the department's specialists often admit patients with degenerative diseases of the joints and spine, as well as chronic pain syndromes. The rehabilitation program is appointed after the accurate study of the patient's medical history, a comprehensive diagnostic examination of the musculoskeletal system, an assessment of the general health and rehabilitation potential of the patient. The patients of working age are offered medical profession-oriented rehabilitation, which allows them to restore professional skills and return to work. The Chief Physician of the department is Dr. med. Barbara Schmitt.
The department's medical team is convinced that orthopedic rehabilitation requires a comprehensive approach, including not only dosed physical activity, swimming, electrotherapy, ultrasound therapy, ergotherapy, but also psychological care, diet therapy, motivational conversations, which help the patient to overcome difficulties arising during the therapeutic process.
The department often admits patients of working age. It is important for them not only to get rid of pain and restore mobility, but also to return to professional activities. In this regard, the department's rehabilitation therapists conduct medical profession-oriented rehabilitation. Prior to appointing this type of treatment, the doctor receives comprehensive information about the patient's work schedule, physical activities during work and other features of the work process. The task of the rehabilitation therapist during the course of profession-oriented rehabilitation is to improve the patient's self-control and endurance. It is also necessary to train certain muscle groups, which are most involved at the workplace. For example, medical rehabilitation for office workers involves intense training to strengthen the muscles in the neck, back and shoulders, since during sedentary work, the main load falls on these muscle groups. In most cases, professional-oriented rehabilitation is carried out using special computer programs. For office workers, there is a special table, which simulates a workplace in the office.
The department's medical team strives not only to provide patients with a high level of medical care, but also to maintain a pleasant and friendly atmosphere in the medical facility. It is extremely important for the patients undergoing orthopedic rehabilitation to feel support from their loved ones, and therefore, if they wish, relatives can take part in the therapeutic process.
The department specializes in the rehabilitation of patients after the following musculoskeletal diseases and injuries, as well as orthopedic interventions:
Degenerative diseases of the joints and spine
Congenital musculoskeletal diseases and abnormalities
Musculoskeletal injuries, including spinal injuries, and their consequences
Chronic pain syndromes
Pathological conditions after joint replacement surgery and other interventions on the knee, hip, shoulder and ankle joints
Pathological conditions after spinal fusion, surgeries for herniated discs, vertebral fractures, etc.
Pathological conditions after limb amputation
Other orthopedic diseases and pathological conditions
The department's rehabilitation service range includes:
Therapeutic exercises (individually and in groups)
Water aerobics, swimming, sauna
Medical training therapy
Workouts on an ergometer, treadmill, cross trainer and other fitness equipment
Regular and Nordic walking
Classic massage, underwater shower massage, lymphatic drainage
Mud wraps, hot wraps
Electrotherapy
Ultrasound therapy
Manual therapy
Ergotherapy
Medical profession-oriented rehabilitation
Recommendations on nutrition (healthy diet, diet for overweight, hyperlipidemia, diabetes mellitus, obesity)
Psychological care
Other therapeutic options
Photo of the doctor: (c) MEDIAN Kaiserberg-Klinik Bad Nauheim
Department of Orthopedic Rehabilitation.
MEDIAN Rehabilitation Clinic Kaiserberg Bad Nauheim:

Request more information now.
We will be happy to answer all your questions.
---
Certificates