MEDIAN Rehabilitation Clinic Kaiserberg Bad Nauheim
Department of Orthopedic Rehabilitation (

25855

)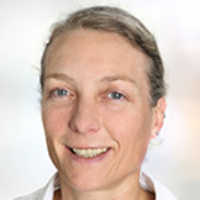 Dr. med.
Barbara Schmitt
Specialized in: orthopedics, traumatology
About the department
The Department of Orthopedic Rehabilitation at the MEDIAN Rehabilitation Clinic Kaiserberg Bad Nauheim specializes in the rehabilitation of patients with diseases of the whole musculoskeletal system, including spinal diseases. In addition, special attention is paid to follow-up treatment after the implantation of artificial knee or hip joints, as well as after spine surgery (e.g., intervertebral disc surgery, spine stabilization surgery, vertebral fractures). The department is headed by Dr. med. Barbara Schmitt.
In the department each patient receives rehabilitation based on current physiotherapy procedures, occupational therapy and tested physical exercises. In the course of patients' restoration, particular importance is given to the patient's psychological state, and therefore the department offers group and individual psychotherapy, i.e. the department uses a comprehensive approach.
The department offers rehabilitation of patients after the following orthopedic diseases and surgical interventions:
Diseases and functional disorders of the musculoskeletal system, incl. spinal diseases
Surgical procedures on the musculoskeletal system, especially knee and hip joint replacement surgery
Spine surgery
Injuries to the musculoskeletal system
Orthopedic surgery
Degenerative and congenital diseases of the joints and spine with chronic pain syndromes
Endoprosthetic implantation and other complex operations on the thigh, knee, shoulder and ankle
Minimally invasive spinal interventions (e.g., intervertebral disc surgery, spine stabilization surgery, vertebral fractures)
Amputations
The main therapeutic options of the Department of Orthopedic Rehabilitation include:
Physiotherapy (individual and group)
Medical training therapy
Differentiated massage procedures
Fango
Electrotherapy
Ultrasound therapy
Therapeutic pool
Free swimming
Chiropractic
Therapy for patients with endoprostheses
Lectures and training
Individual psychological counseling
Department of Orthopedic Rehabilitation.
MEDIAN Rehabilitation Clinic Kaiserberg Bad Nauheim:
Request more information now.
We will be happy to answer all your questions.
---
---
Certificates