Medical Park Gebze Hospital
Department of Aesthetic, Plastic and Reconstructive Surgery (

599750

)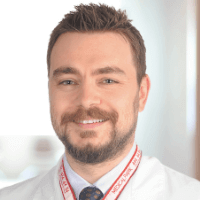 Assoc. Prof. Dr. med.
Burak Sercan Erçin
Specialized in: aesthetic, plastic, reconstructive surgery
About the Department of Aesthetic, Plastic and Reconstructive Surgery at Medical Park Gebze Hospital
The Department of Aesthetic, Plastic and Reconstructive Surgery at the Medical Park Gebze Hospital offers all modern surgical interventions in these fields. The operations are performed in state-of-the-art operating rooms with all necessary equipment, computers and monitoring systems. With the help of 3D modeling systems, the patients can see the predicted outcome even before surgery. The minimally invasive surgical techniques, endoscopic techniques, cryodestruction and laser surgical techniques are widely used in the department. The department is headed by Assoc. Prof. Dr. med. Burak Sercan Erçin.
The department's plastic surgeons have excellent experience in the field of facelift (rhytidectomy). This intervention is used for facial and neck skin tightening and removal of excess adipose tissue in the jaw area. As a rule, facelift is performed for patients over the age of 40 years. The department's specialists successfully combine this surgical procedure with nose reshaping, forehead and eyebrow lift, which helps the patient to look much younger. Nevertheless, the department's doctors recommend patients with small wrinkles filler injections (own adipose tissue, hyaluronic acid) or peelings (mechanical, chemical, laser).
Rhinoplasty is another type of plastic surgery, which is especially popular in the department. It is the operation for nose reshaping. Such an intervention usually lasts from one and a half to two hours. After corrective measures, a special plaster bandage is applied for fixation of the new nose shape.
The department's specificity is the exceptional professionalism of surgeons – they perform plastic surgery even in very complex clinical cases. Sometimes, to achieve the optimal result, they perform complex multi-stage surgical interventions. The main task of each department's surgeon is the excellent result, which will satisfy the patient.
The department's surgical service range includes:
Facelift
Rhinoplasty (nose reshaping)
Frontlifting (plastic surgery for skin tightening in the forehead and eyebrows)
Blepharoplasty (surgical correction of the eyelids)
Breast plastic surgery

Breast augmentation
Breast reduction
Breast lift

Liposuction (surgical removal of adipose tissue)
Lip reshaping
Otoplasty (auricle reshaping)
Abdominoplasty (plastic surgery of the anterior abdominal wall)
Genital plastic surgery (plastic surgery of the vagina, labia minora, labia majora, penis and foreskin)
Other types of plastic surgery
Curriculum vitae of Assoc. Prof. Dr. med. Burak Sercan Erçin
Education and Specialization
2004 - 2010 Bachelor's Degree, Faculty of Medicine, University of the Aegean.
2011 - 2017 Specialization, Faculty of Medicine, University of the Aegean.
2013 University of South Florida, Moffitt Cancer Center, USA (3-month Breast Reconstruction Course).
Clinical Career
2017 - 2019 Department of Plastic Surgery, Siirt State Hospital.
2018 Department of Reconstructive Surgery, Clinica Cavadas Hospital, Spain (focus on Reconstructive Microsurgery).
Clinical Interests
Reconstructive surgery.
Hand surgery.
Free flap plastic surgery.
Peripheral vascular interventions.
Autologous stem cell transplantation.
Reconstructive interventions after surgical treatment of cancer.
Facelift.
Microsurgery.
Memberships in Professional Societies
Turkish Society of Aesthetic Plastic Surgery.
Turkish Society for Reconstructive Microsurgery.
Turkish Cleft Lip and Palate Society.
International Society of Arthroplasty (Middle East Representative and Regional Manager).
Photo of the doctor: (c) Medical Park Hospitals Group
Department of Aesthetic, Plastic and Reconstructive Surgery.
Medical Park Gebze Hospital:

Request more information now.
We will be happy to answer all your questions.
---