Medical Park Gebze Hospital
Department of General Surgery (

599768

)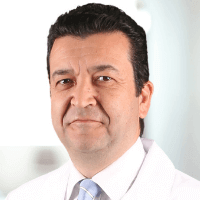 Assoc. Prof. Dr. med.
Orhan Çelen
Specialized in: general surgery
About the Department of General Surgery at Medical Park Gebze Hospital
The Department of General Surgery at the Medical Park Gebze Hospital offers all innovative and classic operations for the treatment of pathologies of the internal organs. To provide comprehensive medical care, the department's specialists cooperate closely with gastroenterologists, radiologists, oncologists and doctors of other specializations. Such collaboration plays a key role in the treatment of cancer. The Chief Physician of the department is Assoc. Prof. Dr. med. Orhan Çelen.
All operations are carefully planned and performed in progressive operating rooms with all necessary equipment, computer and monitoring systems. This ensures the best possible reliability and effectiveness of treatment.
If possible, the team of the department's surgeons prefers sparing laparoscopic interventions. Such surgery is an alternative to classic surgeries. Its main advantages include the minimum size of skin incisions (0.5 - 1.5 cm), which significantly reduces the hospitalization period after surgery, minimizes the risks of complications, as well as pain.
The surgical spectrum of the department includes:
Interventions to treat thyroid diseases (particularly, goiter)
Interventions to treat breast diseases
Interventions to treat esophageal diseases
Interventions to treat gastric diseases
Interventions to treat duodenal diseases
Interventions to treat small intestinal diseases
Interventions to treat colon diseases
Interventions to treat colon diseases
Interventions to treat rectal and anal diseases
Interventions to treat liver diseases
Interventions to treat gallbladder and bile duct diseases
Intervention to treat hernias
Other medical services
Photo of the doctor: (c) Medical Park Hospitals Group
Department of General Surgery.
Medical Park Gebze Hospital:

Request more information now.
We will be happy to answer all your questions.
---