Medicana International Ankara Hospital
In Vitro Fertilization Center (

534912

)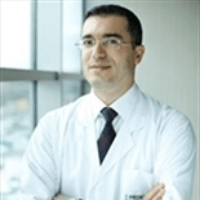 Prof. Dr. med.
Yusuf Üstün
Specialized in: in vitro fertilization
About the department
The In Vitro Fertilization Center is a highly specialized medical facility for fertility treatment. It practices the in vitro fertilization, which is one of the best therapeutic options in this fields nowadays. With the constant high success rates in infertility treatment, the center has gained an excellent reputation at both national and international levels. The center is headed by Prof. Dr. med. Yusuf Üstün.
The in vitro fertilization (IVF) is a procedure during which the woman's own eggs are fertilized by her partner's sperm in the laboratory conditions. The mature eggs are sampled using the ultrasound-guided puncture of the ovarian tissue, after which the obtained eggs are fused with sperm. With the help of a special catheter, the fertilized eggs (embryos) are transferred into the uterus of the expectant mother within 2-5 days.
In most cases, the IVF is recommended after failed attempts in traditional treatment and in the absence of pregnancy during 12 months or more in regular unprotected sexual life. However, in some cases, the in vitro fertilization may be the only way to have a baby, for example, in the absence of fallopian tubes.
This procedure is indicated in such pathological conditions:
Fallopian tube obstruction or its absence (after surgical removal)
Endometriosis and inability to become pregnant after medical or surgical treatment
Ovulation problems (including after the medical treatment without positive results)
Diagnostics of infertility with unexplained reasons
Low amount or complete absence of sperm in the ejaculate
Other pathological conditions
In vitro fertilization consists of the following stages:
Follicle growth stimulation
Follicle puncture
Sperm preparation and egg fertilization
Embryo envelope incision
Embryo transfer
Pregnancy test
It should be noted that one of the key conditions for IVF is the documentary evidence of the official marriage registration. Regardless of any circumstances, it is not allowed to treat married couples if the man has no sperm or the woman does not produce eggs. The reproductive cells, which will be used in the treatment, should be exclusively the cells of the spouses in a registered marriage.
Also, the center carries out intrauterine insemination, which is an assisted reproductive method allowing the doctor to inject the sperm directly into the uterine cavity. In such a case, the fertilization occurs naturally in the woman's body.
Curriculum vitae
Education
1996 School of Medicine, Dokuz Eylul University.
2001 Residency, School of Medicine at the Ankara University, Department of IVF, Fertility Center.
Professional Career
2002 - 2003 School of Medicine, Yüzüncü Yıl University.
2003 - 2009 School of Medicine, İnönü University.
2009 - 2013 Medicana International Hospital, Ankara.
2013 - 2015 School of Medicine, Düzce University.
Professor and Head of the In Vitro Fertilization Center, Medicana International Ankara Hospital.
Photo of the doctor: (c) Medicana Health Group
In Vitro Fertilization Center.
Medicana International Ankara Hospital:

Request more information now.
We will be happy to answer all your questions.
---