Dorsal spondylodesis for scoliosis (program ID:

536034

)
Medicana International Istanbul Hospital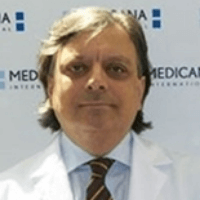 Head Physician
Prof. Dr. med.
Ali Erdem Bagatur
Specialized in: adult and pediatric orthopedics, traumatology
Department of Adult and Pediatric Orthopedics, Traumatology
Program includes:
Initial presentation in the clinic
clinical history taking
physical examination
review of medical records
laboratory tests:

complete blood count
general urine analysis
biochemical analysis of blood
TSH-basal
indicators of inflammation
indicators blood coagulation

neurological examination
functionality x-ray
CT/MRI scan of the spine
preoperative care
dorsal spondylodesis surgery
symptomatic treatment
control examinations
physiotherapeutic procedures
the cost of essential medicines and materials
nursing services
full hospital accommodation
explanation of future recommendations
Required documents
Medical records
X-ray examination, MRI/CT scan (if available)
Service
Price:
Type of program :
Expected duration of the program:
You may also book

Price:
About the department
The Department of Adult and Pediatric Orthopedics, Traumatology at the Medicana International Istanbul Hospital offers the full range of services in the diagnostics and treatment of diseases of the musculoskeletal system, including degenerative pathologies, developmental anomalies of the joints and spine, sports injuries of any severity, etc. Of particular interest are knee and hip arthroplasty, reconstructive ligament surgery and spinal surgery. The key to successful clinical activities of the department are the very latest conservative and surgical treatment methods, advanced medical equipment and unique rehabilitation programs, adapted to the individual needs of the patient. The Chief Physician of the department is Prof. Dr. med. Ali Erdem Bagatur.
An important focus of the department is the treatment of joints diseases. After a comprehensive diagnostics, the doctors select the optimal conservative therapy methods, including the physical therapy. If necessary, surgical treatment may be provided as well. The department is fitted out with the advanced equipment for minimally invasive, robotic surgical interventions, characterized by low tramatism and rapid patient recovery. These are the gold standard of modern surgery. The doctors of the department specialize in knee and hip replacement surgery. When providing treatment, only the high-quality endoprostheses of the leading world manufacturers are used. Also, if desired, an individual prosthesis may be made. Once partial or total joint replacement is performed, the patient will be prescribed all the necessary rehabilitation measures aimed at an early recovery.
Another priority focus of the department is spinal surgery. The department offers a wide range of surgical interventions for the treatment of degenerative diseases and cervical, thoracic and lumbar spine neoplasms. The therapeutic options also include many conservative methods, injection therapy for the elimination of back pain, etc. The department's surgeons have exceptional skills in the treatment of scoliosis in adults and children.
The service range of the department includes:
Knee and hip replacement surgery

Total and partial knee replacement
Total and partial hip replacement surgery

Arthroscopy
Surgical and conservative treatment of injuries and fractures of the upper and lower limbs

Installation of external fixation devices and intraosseous fixation systems
Surgical interventions

Reconstructive interventions in tendon and ligament rupture
Revision and reposition surgery on the bones and joints
Treatment of infectious diseases of the musculoskeletal system
Correction of congenital defects of the musculoskeletal system in children

Spine and joint lesions
Scoliosis
Congenital skeletal bone defects
Hand and foot deformities

Spinal surgery (in close cooperation with the Departments of Neurosurgery, Neurology, Physical Therapy and Rehabilitation)

Minimally invasive surgery
Microsurgical treatment methods of the cervical, thoracic and lumbar spine hernias
Surgical treatment of spinal stenosis
Surgery to treat spondylolisthesis
Endoscopic techniques for the treatment of pain syndromes
Surgery to remove tumors of the spine and spinal cord
Surgery in spinal cord injuries
Endoscopic pituitary surgery
Correction of congenital and acquired spinal deformities
Spinal stabilization surgery

Rehabilitation (physiotherapy, therapeutic exercises, etc.)
Other medical services
Curriculum vitae
Education
1991 - 1997 Cerrahpaşa School of Medicine, Istanbul University.
1997 - 2001 Postgraduate Education, Residency, Orthopedics, School of Medicine, Istanbul University.
Areas of Specialization
Arthroplasty.
Trauma treatment.
Hand and upper extremity surgery.
Foot and ankle surgery.
Memberships
Turkish Medical Association.
Turkish Society of Orthopedics and Traumatology.
Turkish Society of Arthroplasty.
Turkish Society for Hand and Upper Extremity Surgery.
Turkish Society for Foot and Ankle Surgery.
European Society of Pediatric Orthopedics.
Photo of the doctor: (c) Medicana Health Group
---
About hospital
Accommodation in hospital
Scoliosis
Program [Description]
Dorsal spondylodesis for scoliosis
Hospital: Medicana International Istanbul Hospital
Type:
access_time Duration:
Price:
date_range
There are 6 scoliosis treatment hospitals on Booking Health website
Show all clinics
Certificates