Medipol Mega University Hospital Istanbul
Department of Pediatric Surgery (

302859

)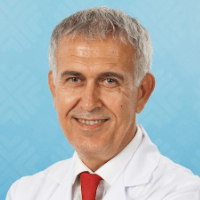 Prof. Dr. med.
Riza Rizalar
Specialized in: pediatric surgery
About the Department of Pediatric Surgery at Medipol Mega University Hospital Istanbul
The Department of Pediatric Surgery at the Medipol Mega University Hospital Istanbul offers the full range of diagnostics and surgical treatment of various diseases in children from infancy to adolescence (0-18 years). It also performs surgeries to correct severe congenital anomalies in newborns (when a diagnosis is made at the stage of intrauterine development), as well as to treat pathologies, which occur immediately after childbirth. The state-of-art operating rooms and the exceptional skills of the pediatric surgeons working in the department ensure the best treatment results. The department is headed by Prof. Dr. med. Riza Rizalar.
The team of the department's surgeons carries out operations of varying degrees of complexity, including interventions for thoracic diseases (except for the heart), cancer surgery, operations to treat gastrointestinal diseases, surgical treatment of endocrine pathologies, pediatric gynecology, diagnostic and interventional endoscopic procedures, laparoscopic and thoracoscopic surgery, correction of complex congenital malformations, surgical treatment of injuries, hernias, appendicitis, undescended testicle, etc.
When performing surgical interventions, the department's doctors pay particular attention to the protection of the psychological health of the child. Young patients undergo the entire therapeutic process without pain and discomfort. The department uses the very latest, the most safe anesthetics and technological options, which allow thу doctors to carry out diagnostic and interventional measures in children under general anesthesia. For example, children can more easily tolerate CT and MRI under general anesthesia, because during these examinations they need to lie still for about 30 minutes.
The department's specialists carry out preoperative preparation (examination and laboratory tests) and sedative therapy (administration of sedatives) individually for each patient, in accordance with his age and clinical case.
The surgical spectrum of the department includes:
Laparoscopic, thoracoscopic and cystoscopic interventions
Laparoscopic surgical treatment of appendicitis in children
Surgical interventions for inguinal and umbilical hernias
Surgical interventions for hydrocele
Surgical interventions for undescended testes
Surgical interventions for testicular torsion and acute scrotal syndrome
Surgical interventions for umbilical granuloma
Surgical interventions for torticollis
Surgical interventions for fusion of the labia minora
Surgical interventions for pathological conditions accompanied by rectal hemorrhages

Intestinal invagination (diverticulosis)
Colorectal polyps
Anal fissures

Surgical interventions for constipation and fecal incontinence in children
Surgical interventions for pyloric stenosis in children
Circumcision (in infants and young children)
Surgical removal of abdominal and thoracic tumors
Removal of foreign bodies from the respiratory tract and gastrointestinal tract
Surgical interventions for urological pathologies in children (hypospadias, vesicoureteral reflux)
One-stage treatment of Hirschsprung's disease
Surgical interventions for congenital pathologies in newborns (diaphragmatic hernia, esophageal, rectal and intestinal atresia)
Other medical services
Curriculum vitae of Prof. Dr. med. Riza Rizalar
Education and Professional Career
1991 - 2014 Faculty of Medicine, Ondokuz Mayıs University.
2011 Medical Expert, Committee for Pediatric Urology.
1990 Istanbul University, Cerrahpaşa Faculty of Medicine, Pediatric Surgery.
1984 Istanbul University, Cerrahpaşa Faculty of Medicine.
Photo of the doctor: (c) Medipol Mega University Hospital Istanbul
Cholecystitis treatment with laparoscopic cholecystectomy
Resection of thyroid lymphoma
Splenectomy in spherocytosis
Department of Pediatric Surgery.
Medipol Mega University Hospital Istanbul:

Request more information now.
We will be happy to answer all your questions.
---
Certificates