Medipol Mega University Hospital Istanbul
Department of Pediatric Cardiology (

302865

)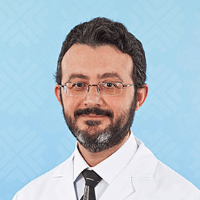 Prof. Dr. med.
Volkan Tuzcu
Specialized in: pediatric cardiology
About the department
The Department of Pediatric Cardiology at the Medipol Mega University Hospital Istanbul offers the highly accurate diagnostics and effective treatment of heart diseases in children, including congenital heart defects, rheumatic heart lesions and arrhythmias. It successfully performs all types of minimally invasive interventions, particularly, oval window closure and balloon procedures. The department has a reputation as one of the leading centers in Turkey and treats cardiac diseases in children at the highest level of modern medicine. The department is headed by Prof. Dr. med. Volkan Tuzcu.
The department operates a progressive Center for Pediatric Cardiac Arrhythmias. It is one of the few centers in the world, which provides all types of diagnostics and treatment of arrhythmias in children. The service range includes Holter ECG monitoring, physical and pharmacological stress tests, cardiac function assessment using an event recorder, transthoracic and transesophageal echocardiography, genetic testing, interventional procedures, cryoablation, implantation of permanent pacemakers and defibrillators, as well as follow-up monitoring of children with such devices. It is worth mentioning the cardiac ablation without X-ray imaging using modern 3D navigation systems. The Chief Physician of the department, Prof. Volkan Tuzcu, takes an active part in its development.
The main clinical focuses of the department include:
Interventional procedures on the coronary arteries
Interventions for complications of coronary artery disease: ventricular aneurysm, postinfarction VSD, papillary muscle rupture, ventricular rupture
Heart valve interventions
Interventions for congenital heart defects
Implantation of pacemakers
Implantation of defibrillators
Treatment of rheumatic heart diseases
Pericardial interventions
Aortic aneurysm surgery
Endovascular treatment of vascular diseases
Conservative treatment of arterial and venous diseases
Other medical services
Curriculum vitae
Education
1998 Specialist in Pediatric Electrophysiology, Texas Children's Hospital, Baylor College of Medicine.
1997 Specialist in Pediatric Cardiology, Children's Clinic of Michigan, Wayne State University.
1994 Children's Clinic of Michigan, Wayne State University, Specializing in Pediatric Health Care.
1990 Faculty of Medicine, Istanbul University.
Professional Career
2004 - 2011 Arkansas Children's Hospital, Department of Medicine, University of Arkansas.
2003 - 2004 Cincinnati Children's Hospital Medical Center, University of Cincinnati.
1998 - 2003 University of Giessen.
Photo of the doctor: (c) Medipol Mega University Hospital Istanbul
Electroconvulsive therapy for atrial fibrillation
Left bundle branch block (lbbb) conservative treatment and holter monitoring
Bradycardia conservative treatment and holter monitoring
Department of Pediatric Cardiology.
Medipol Mega University Hospital Istanbul:

Request more information now.
We will be happy to answer all your questions.
---
Certificates