Diagnosis and conservative treatment of psoriasis (program ID:

317087

)
Medipol Mega University Hospital Istanbul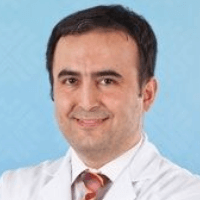 Head Physician
Assoc. Prof. Dr. med.
Ali Balevi
Specialized in: dermatology
Department of Dermatology
The program includes:
Initial presentation in the clinic
clinical history taking
review of medical records
physical examination
laboratory tests:

complete blood count
biochemical analysis of blood
inflammation indicators (CRP, ESR)
immune status (IgE)

differential diagnosis of other diseases of the skin
skin scratch/prick tests
consultation of related specialists
symptomatic specific treatment
the cost of essential medicines and materials
nursing services
control examinations
full hospital accommodation
developing of further guidance
Required documents:
Medical records
Photo of the affected body regions
Service
Price:
Type of program :
Expected duration of the program:
You may also book:

Price:
About the department
The Department of Dermatology at the Medipol Mega University Hospital Istanbul offers the full range of diagnostics and treatment of diseases of the skin and its appendages, as well as the solution of aesthetic skin problems. The highly qualified team of the department's dermatologists has at its command all modern treatments, including phototherapy, galvanotherapy and a wide selection of dermatologic procedures, such as cryotherapy, electrocautery, puncture and excisional biopsy. The very latest treatment methods in combination with the exceptional qualifications of doctors make it possible to successfully deal even with particularly complex pathologies. The Chief Physician of the department is Assoc. Prof. Dr. med. Ali Balevi.
The department's clinical practice is mainly focused on the diagnostics and treatment of diseases of the skin, hair, nails and skin manifestations of sexually transmitted diseases. In addition, the team of the department's dermatologists is proud of the excellent results in the treatment of eczema, atopic dermatitis, acne, psoriasis, sexually transmitted diseases, genital warts, herpes, herpes zoster, fungal and skin infections, benign and malignant skin tumors, hair and nail diseases, warts, itching of unknown etiology and other skin pathologies.
The key focuses of the department's work include:
Computer skin mapping, dermatoscopy
Computer analysis of hair composition
Analysis of wrinkles, age spots, subcutaneous fat and skin tone
PUVA phototherapy, narrowband ultraviolet phototherapy
Allergic tests (skin prick test, open patch test)
Diagnostics using Wood's lamp (black lamp)
Galvanotherapy
Dermatosurgical procedures

Cryotherapy
Electrocauterization
Puncture and excisional skin biopsy

Cosmetic procedures

Laser therapy (laser devices IPL, Nd: YAG, fractional laser ER: YAG)
Sclerotherapy
Large selection of chemical peels
Mesotherapy
PRP dermatotherapy
Botox and filler injections

Other medical services
Curriculum vitae
Professional Career
2019 Head of the Department of Dermatology at the Medipol Mega University Hospital Istanbul.
2015 Work in the Private Hospital Medipol, Istanbul, Turkey.
2013 Work at the Medipol Mega University Hospital Istanbul.
2011 - 2013 Work at the Academic Hospital Şanlıurfa, Turkey.
Higher Education
2011 Study of Dermatology and Venereology, Faculty of Medicine, Selçuk University.
2006 Faculty of Medicine, Erciyes University.
Photo of the doctor: (c) Medipol Mega University Hospital Istanbul
---
About hospital
Accommodation in hospital
Psoriasis
Program [Description]
Diagnosis and conservative treatment of psoriasis
Hospital: Medipol Mega University Hospital Istanbul
Type:
Duration:
Price:
date_range
There are 58 psoriasis treatment hospitals on Booking Health website
Show all clinics
Certificates