Memorial Bahcelievler Hospital Istanbul
Department of Plastic, Aesthetic and Reconstructive Surgery (

613018

)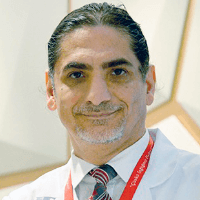 Prof. Dr. med.
Tonguc Isken
Specialized in: plastic, aesthetic and reconstructive surgery
About the department
The Department of Plastic, Aesthetic and Reconstructive Surgery at the Memorial Bahçelievler Hospital Istanbul offers the widest opportunities for improvement of the appearance – both on request of the patient and for medical reasons. The department's competence covers operations on the face and body, including breast surgery. The main purpose of the department's specialists is to provide high quality surgical services and to ensure the best aesthetic result for maximum satisfaction of the patient. The team of plastic surgeons has a rich and successful clinical experience, so the probability of complications is almost zero. If possible, the preference is given to minimally invasive techniques, which contribute to early postoperative recovery. The department is headed by Prof. Dr. med. Tonguc Isken.
Each surgical procedure is selected individually, taking into account the particular clinical case and according to the specific needs of the patient. The health and well-being of the patients is of particular value for the department's surgeons, and therefore the operation is preceded by all the necessary diagnostic tests, which ensure the doctor comprehensive information about the patient's health. If desired, the surgeon can preliminarily perform 3D computer modeling, with the help of which the patient will see himself in different angles on the photo – this helps to assess the predicted result of the surgical intervention in advance. Before discharge, the patient also receives the full set of recommendations for further treatment and care of the operated area of the face or body.
The department's surgical service range includes:
Aesthetic plastic surgery

Head and facial interventions

Rhinoplasty (nose reshaping)
Otoplasty (ear reshaping)
Blepharoplasty (eyelid surgery)
Bichectomy (removal of Bisha lumps)
Face and neck lift
Facial skin rejuvenation with botox and filler injections

Body interventions

Breast augmentation
Breast reduction
Breast lift
Gynecomastia treatment in men
Liposuction
Abdominoplasty
Hand lift
Thigh lift
Brazilian butt lift
Mommy Makeover for body shaping after childbirth
Skin lift after significant weight loss
Intimate plastic surgery for men and women

Reconstructive plastic surgery

Breast reconstruction after cancer surgery
Reconstructive interventions to correct breast defects
Surgical correction of oral and maxillofacial deformities
Cleft lip and palate correction
Reconstructive interventions to correct deformities of the hand and fingers
Reconstructive interventions to correct everted ears
Reconstructive interventions to correct genitourinary malformations in men and women
Reconstructive interventions to correct consequences of burns
Scar revision
Treatment of chronic wounds
Reconstructive interventions in the head and neck, upper and lower limbs

Other surgical options
Curriculum vitae
Higher Education and Postgraduate Training
2015 Professorship.
2009 Assistant Professorship.
1992 - 1999 Specialized training in Plastic, Aesthetic and Reconstructive Surgery, Faculty of Medicine, Akdeniz University, Antalya, Turkey.
1985 - 1991 Study of Human Medicine, Faculty of Medicine, Ankara University, Ankara, Turkey.
Professional Career
Since 2019 Head of the Department of Plastic, Aesthetic and Reconstructive Surgery at the Memorial Bahçelievler Hospital Istanbul, Istanbul, Turkey.
Since 2015 Professor at the Faculty of Medicine, Bahçeşehir University, Istanbul, Turkey.
2009 Postgraduate Student, Johns Hopkins University, USA.
2008 Postgraduate Student, Uppsala University.
2000 - 2015 Postgraduate Student, Faculty of Medicine, Kocaeli University.
Memberships in Professional Societies
Turkish Society of Plastic Reconstructive and Aesthetic Surgery.
Turkish Society of Aesthetic Plastic Surgery.
International Society of Aesthetic Plastic Surgery (ISAPS).
Turkish Medical Informatics Association.
Interplast Turkey Society.
Balkan Association of Plastic, Reconstructive and Aesthetic Surgery (BAPRAS).
Photo of the doctor: (c) Memorial Bahçelievler Hospital
Department of Plastic, Aesthetic and Reconstructive Surgery.
Memorial Bahcelievler Hospital Istanbul:

Request more information now.
We will be happy to answer all your questions.
---
Certificates