Memorial Bahcelievler Hospital Istanbul
Department of Adult and Pediatric Ophthalmology (

613030

)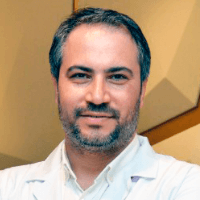 Dr. med.
Mahmut Odabasi
Specialized in: adult and pediatric ophthalmology
About the department
The Department of Adult and Pediatric Ophthalmology at the Memorial Bahçelievler Hospital Istanbul provides the full range of high-quality diagnostic and therapeutic services for patients with eye diseases. The medical facility has the necessary medical and technical resources, as well as competent staff to serve patients of all age groups. The patients with common, rare and especially complex eye pathologies can receive medical care here. The department has state-of-the-art laser systems, which allow them to effectively correct refractive errors without surgery. It also specializes in corneal transplantation and oculoplastic surgery. The department is headed by Dr. med. Mahmut Odabasi.
The therapeutic process begins with a consultation with the attending physician, during which the patient tells in detail about his complaints. Then the doctor studies the patient's medical history and prescribes a set of necessary diagnostic examinations for obtaining comprehensive clinical information. The department carries out all modern diagnostic tests, including standard visual acuity test and fundus assessment, ultrasound examination, Doppler scanning, optical coherence tomography, electroretinography, keratography, tonometry, biomicroscopy, autorefractometry and others. The diagnostic results serve as the basis for the establishment of an accurate diagnosis and development of an optimal treatment regimen aimed at improving vision.
The department's specialists keep pace with innovations in medicine, thanks to which the treatment is as effective, sparing and safe as possible. For example, cataract surgery is performed using sutureless phacoemulsification technique under eye drop anesthesia. The clinical practice involves the use of such laser techniques as LASIK, LASEK, PRK, FLEX, SMILE and others. To perform corneal transplantation, the doctors use donor material, which is available in the Eye Banks.
Special attention should be paid to ophthalmological care for children, which is provided by a specially trained team of pediatricians. The doctors carry out regular eye screenings in infants and small children to exclude such complex pathologies as retinopathy of prematurity, congenital cataract, glaucoma, tear duct obstruction, strabismus, myopia, hyperopia and astigmatism. The department's specialists also select glasses and contact lenses for children suffering from visual loss.
The department's key clinical focuses include:
Diagnostics and treatment of cataract
Diagnostics and treatment of glaucoma
Diagnostics and treatment of refractive errors (refractive surgery)

Myopia
Astigmatism
Hyperopia
Presbyopia

Diagnostics and treatment of retinal and vitreous diseases

Retinal detachment
Retinal dystrophy
Diabetic retinopathy
Retinal tear
Retinal degeneration
Age-related macular degeneration
Retinitis
Hypertensive retinopathy
Retinal tumors
Retinal hemorrhage
Vitreous body destruction

Diagnostics and treatment of eyelid diseases

Blepharitis
Gordeol
Chalazion
Benign and malignant eyelid tumors
Xanthelasma
Ectropion
Entropion
Ptosis
Blepharospasm

Diagnostics and treatment of ophthalmic diseases in children

Retinopathy of prematurity
Congenital cataract
Congenital glaucoma
Tear duct obstruction
Refractive errors (myopia, hyperopia, astigmatism)
Strabismus

Diagnostics and treatment of other ophthalmic pathologies
Curriculum vitae
Higher Education
2007-2011 Internship, Department of Ophthalmology, Şişli Etfal Training and Research Hospital, Istanbul, Turkey.
2001-2007 Study of Human Medicine, Faculty of Medicine, Uludağ University, Bursa, Turkey.
Professional Career
Since 2020 Chief Physician of the Department of Adult and Pediatric Ophthalmology at the Memorial Bahçelievler Hospital Istanbul, Istanbul, Turkey.
2014 - 2020 Ophthalmologist in the Department of Ophthalmology at the Medipol Mega University Hospital, Istanbul, Turkey.
2012 - 2014 Ophthalmologist in the Department of Ophthalmology at Arnavutköy State Hospital, Istanbul, Turkey.
Scientific Publications and Reports
9 publications in international peer-reviewed journals.
7 publications in national peer-reviewed journals.
Author of 1 chapter of the book.
2 oral presentations.
20 poster presentations.
Memberships in Professional Societies
Turkish Medical Association (TTO).
Turkish Ophthalmological Association (TOD).
European Society of Cataract and Refractive Surgeons (ESCRS).
Photo of the doctor: (c) Memorial Bahçelievler Hospital
Department of Adult and Pediatric Ophthalmology.
Memorial Bahcelievler Hospital Istanbul:

Request more information now.
We will be happy to answer all your questions.
---
Certificates