Memorial Bahcelievler Hospital Istanbul
Department of Pulmonology and Somnology (

616910

)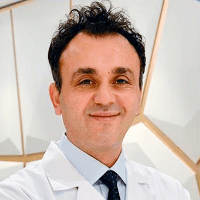 Dr. med.
Engin Aynacı
Specialized in: pulmonology, somnology
About the department
The Department of Pulmonology and Somnology at the Memorial Bahçelievler Hospital Istanbul offers the full range of highly accurate diagnostics and effective conservative treatment of diseases of the lungs and other respiratory organs. The department has all resources for provision of top-class medical care – highly qualified doctors with extensive clinical experience, cutting-edge diagnostic equipment for detection of pathological changes in the structure of the respiratory system, as well as effective advanced drugs and other conservative treatment methods. The department's specialists successfully treat pathologies of varying severity, ranging from simple bronchitis to complex types of pneumonia, bronchial asthma and lung cancer. The department is headed by Dr. med. Engin Aynacı.
The department includes a modern Respiratory Physiology Laboratory, which carries out spiroergometry, ergospirometry, measurement of diffusion capacity of the lungs, bronchial provocation test, arterial oxygen saturation measurement and many other diagnostic examinations.
In addition, the department's medical team specializes in bronchoscopy – flexible, rigid and videobronchoscopy. This examination is indicated for patients with suspected benign and malignant neoplasms, inflammatory processes, cystic fibrosis, bronchial asthma, etc. Bronchoscopy is an endoscopic method for examination of the respiratory tract, which is used for detection of pathological lesions of the mucous membrane of the larynx, trachea and bronchi. The procedure is carried out on an inpatient basis using a special instrument called a bronchoscope. The bronchoscope has the shape of a flexible or rigid tube with a diameter of 3-6 mm. It is equipped with a light source and a video camera. When performing the examination, the doctor displays images on a computer monitor. If necessary, during the bronchoscopy, the pulmonologist can take tissue samples for a biopsy. It should be noted that the department uses rigid bronchoscopy not only for diagnostic, but also for therapeutic purposes. For example, it is effective for the arrest of hemorrhage, removal of large foreign objects from the respiratory tract, aspiration of fluid from the lungs, removal of tumors, dilation of the bronchial lumen, etc.
An important focus of the department's work is somnology. The specialists in this discipline deal with the diagnostics and treatment of sleep disorders. Both sleep quality assessment and
treatment of its disorders are carried out within a specialized Sleep Laboratory. The clinical practice is mainly focused on the treatment of obstructive sleep apnea, snoring and insomnia.
The department's range of medical services includes:
Diagnostics and treatment of lung cancer
Diagnostics and treatment of exogenous allergic alveolitis
Diagnostics and treatment of obstructive pulmonary diseases (asthma, COPD, bronchiectasis)
Diagnostics and treatment of chronic cough
Diagnostics and treatment of pneumonia
Diagnostics and treatment of pleurisy
Diagnostics and treatment of sarcoidosis
Diagnostics and treatment of pneumothorax
Diagnostics and treatment of pulmonary embolism
Diagnostics and treatment of sleep disorders (obstructive sleep apnea, snoring, insomnia)
Smoking cessation programs
Other therapeutic options
Curriculum vitae
Professional Career
Since 2018 Head of the Department of Pulmonology and Somnology at the Memorial Bahçelievler Hospital Istanbul.
2012 - 2018 Pulmonologist, Department of Pulmonology at the Medipol Mega University Hospital Istanbul.
2009 - 2012 Pulmonologist, Yedikule Chest Diseases and Thoracic Surgery Training and Research Hospital.
2008 - 2009 Pulmonologist, Mevkii Askeri Hastanesi Ankara.
Higher Education and Postgraduate Training
2002 - 2008 Residency, Department of Pulmonology, Yedikule Chest Diseases and Thoracic Surgery Training and Research Hospital.
1995 - 2002 Study of Human Medicine at the Faculty of Medicine of the Istanbul University.
Advanced Training Courses
2013 Polysomnography course, Istanbul, Turkey.
2013 Course in radiography for pneumoconiosis, Ankara, Turkey.
2012 Smoking cessation course, Izmir, Turkey.
2010 Course for thoracic ultrasound scanning, Istanbul.
2008 Basic course on bronchoscopy, Antalya, Turkey.
Awards and Honors
2014 Award for Oral Presentation on Lung Cancer.
2013 Award for group research work in lung and pleura malignancies.
2012 Award for group research work in chronic obstructive pulmonary disease (COPD).
Memberships in Professional Societies
Turkish Society of Pulmonology.
Turkish Respiratory Research Society.
Lung Health and Intensive Care Association (ASYOD).
Turkish Respiratory Society.
Photo of the doctor: (c) Memorial Bahçelievler Hospital
Department of Pulmonology and Somnology.
Memorial Bahcelievler Hospital Istanbul:

Request more information now.
We will be happy to answer all your questions.
---
Certificates