Merian Iselin Clinic Basel
Department of Urology (

114119

)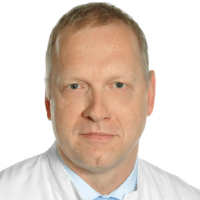 PD Dr. med.
Gernot Bonkat
About the Department of Urology at Merian Iselin Clinic Basel
The Department of Urology at the Merian Iselin Clinic Basel offers the full range of diagnostic and therapeutic services for men with diseases of the reproductive system. The department also deals with the treatment of women with infectious diseases of the genitourinary system, urinary incontinence, urolithiasis and kidney cancer. The department provides the first-class individualized service – the specialists of the medical facility devote enough time to counseling patients, explaining what disease they are dealing with and what treatment methods exist. The department provides both conservative and surgical treatment at the modern level of medicine with the use of the very latest innovations. The Chief Physician of the department is PD Dr. med. Gernot Bonkat.
The department has an excellent technological base. It offers all advanced diagnostic systems for the comprehensive diagnostics. Also, the pride of the department is the da Vinci surgical robot. This system is used to conduct sparing minimally invasive interventions that allow surgical instruments to be inserted into the body through small incisions. The da Vinci robotic system imitates the movements of the surgeon's hands and fingers with maximum accuracy during all operations. When performing the operation, the surgeon sits at the control unit – the console and is guided by high-definition three-dimensional images that he can see on a special screen. Performing operations with the da Vinci surgical system has many advantages. These benefits include minimal blood loss and pain, quick recovery after surgery, and the absence of large scars.
The department's range of medical services includes:
Diagnostics and treatment of prostate cancer

Active surveillance (most often in elderly patients)
High-intensity focused ultrasound (HIFU)
Radical prostatectomy
Open surgery (for locally advanced prostate cancer)
Chemotherapy

Diagnostics and treatment of benign prostatic hyperplasia

Bipolar transurethral resection of the prostate
Greenlight laser vaporization
Robotic aquablation
Minimally invasive Rezum technique
Enucleation of prostate adenoma with the da Vinci robotic system

Diagnosis and treatment of prostatitis
Diagnostics and treatment of urinary incontinence in men and women

Injection therapy
Sling procedures
Burch colposuspension

Diagnostics and treatment of bladder cancer in men and women
Diagnostics and treatment of bladder stones in men and women
Diagnostics and treatment of kidney cancer in men and women

Surgical treatment using the da Vinci system

Diagnostics and treatment of erectile dysfunction

Phosphodiesterase type 5 (PDE5) inhibitors
MUSE therapy
Extracorporeal shock wave therapy
Penile prosthetics

Diagnostics and treatment of infertility in men
Vasectomy
Diagnostics and treatment of testicular cancer
Diagnostics and treatment of urinary tract infections in women
Other services
Curriculum vitae of PD Dr. med. Gernot Bonkat
PD Dr. med. Gernot Bonkat studied medicine at the Ludwig Maximilian University of Munich and at the Julius Maximilian University of Würzburg. After getting a medical degree, Gernot Bonkat practised in Switzerland (Olten) and Germany (Sangerhausen, Würzburg). In 2007, he transferred to the University Hospital Basel, where he completed his specialist training in urology. He spent a clinical research year in South Africa at Stellenbosch University's renowned Tygerberg Hospital in 2012. The following year, he completed his habilitation and received authorisation to teach Urology at the University of Basel. Until alta uro's founding in 2016, he worked at the University Hospital Basel, most recently as a Chief Physician.
Gernot Bonkat is a Fellow of the European Board of Urology (FEBU) and has regularly been nominated to serve as an examiner for the annual European Board Examinations in recent years. He is an active member of a number of urological societies and was named the Chair of the European Association of Urology (EAU) Working Group on Urological Infections in 2015. He is also a member of the German Society of Urology (DGU) and the Swiss Society of Urology (SGU).
Since 2009, Gernot Bonkat has served as a senior scientist at the Center of Biomechanics & Calorimetry (COB) and the Department of Biomedical Engineering (DBE) at the University of Basel. He has authored more than 150 scientific articles, conference papers and book chapters.
Photo of the doctor: (c) Merian Iselin Klinik für Orthopädie und Chirurgie
Department of Urology.
Merian Iselin Clinic Basel:

Request more information now.
We will be happy to answer all your questions.
---