Radiofrequency ablation (RFA) to treat atrioventricular nodal reentrant tachycardia (program ID:

121797

)
Merian Iselin Clinic Basel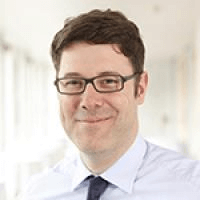 Head Physician
PD Dr. med.
Lukas Altwegg
Specialized in: cardiology
Department of Cardiology
Program includes:
Initial presentation in the clinic
clinical history taking
review of medical records
physical examination
laboratory tests:

complete blood count
biochemical analysis of blood
thyroid function test (TSH-basal, fT3, fT4)
mineral metabolism analysis (Na, K, Ca, Mg)
lipid metabolism (HDL/LDL, cholesterol, triglycerides,
Lip(a), homocysteine)
iron content (ferritin, iron)
blood coagulation analysis (aPTT, PT, INR)
metabolic status (uric acid, total glucose, HbA1c)
inflammatory parameters (CRP, ESR)
cardiovascular disease risk markers

lung function test (Spirometry)
resting and exercise ECG
vessel elasticity measurement
Holter monitoring (24h)
body fat and water examination
color doppler echocardiography
transesophageal echocardiography (tee)
color doppler sonography of cerebral vessels
closed ablation under 3-d mapping
symptomatic treatment
control examinations
the cost of essential medicines and materials
nursing services
full hospital accommodation
explanation of future recommendations
Required documents
Medical records
ECG (if available)
Service
Price:
Type of program :
Expected duration of the program:
You may also book

Price:
About the department
The Department of Cardiology at the Merian Iselin Clinic Basel offers the full range of medical services for the diagnostics and treatment of cardiovascular diseases. The department operates modern Cardiac Catheterization Laboratories, in which doctors perform sparing interventional procedures to diagnose and treat cardiac pathologies. Medical care for patients is based on the use of the very latest treatment methods, for example, implantation of pacemakers, defibrillators, event recorders, stenting, etc. The department employs real professionals who guarantee the exceptional quality and effectiveness of treatment. The department is headed by PD Dr. med. Lukas Altwegg.
The key to a successful treatment result is the accurate diagnostics, and therefore the department offers all progressive diagnostic procedures, including resting and stress ECG, stress echocardiography, perfusion myocardial scintigraphy, transthoracic echocardiography, 24-hour blood pressure monitoring, 24-hour ECG monitoring, diagnostics using event recorders etc. The results of diagnostic tests serve as the basis for selecting the optimal treatment regimen.
The doctors of the department always begin treatment with drug treatments and only with their inefficiency resort to interventional manipulations. The treatment is provided in strict accordance with the standardized clinical protocols.
The department's range of medical services includes:
Diagnostics and treatment of angina pectoris

Diagnostic tests

Resting ECG
Stress ECG (ergometry)
Echocardiogram
Myocardial scintigraphy
MR angiography
Coronarography

Treatment methods

Drug therapy (the use of nitroglycerin, aspirin, heparin, beta-blockers, etc.) accompanied by changes in diet, exercise therapy, smoking cessation, etc.
Interventional treatment (balloon dilatation or stenting)

Diagnostics and treatment of acute coronary syndrome
Diagnostics and treatment of heart failure

Drug treatment
Cardiac resynchronization therapy

Diagnostics and treatment of tachycardia

Diagnostic tests

Classical ECG or 24-hour ECG monitoring

Treatment methods

Drug treatment
Defibrillator implantation

Diagnostics and treatment of atrial fibrillation

Diagnostic tests

Classical ECG or 24-hour ECG monitoring

Treatment methods

Drug treatment (beta blockers)
Electric cardioversion
Ablation of arrhythmogenic foci in the atria

Diagnostics and treatment of heart valve defects
Diagnostics and treatment of bradycardia

Drug treatment
Pacemaker implantation

Diagnostics and treatment of arterial hypertension
Diagnostics and treatment of cardiomyopathies
Other diagnostic and therapeutic options
Curriculum vitae
Education and Professional Career
July 2013 Habilitation, University of Zurich.
Since 2013 Chief Physician of the Department of Cardiology, St. Clara Hospital Basel.
2009 - 2012 Senior Physician, Department of Cardiology, University Hospital Zurich.
2006 - 2008 Fellowship (Interventional Cardiology), St. Paul Hospital Vancouver.
2004 Board certification in Cardiology.
2002 Doctoral thesis defense.
2001 - 2005 Assistant Physician, Department of Cardiology, University Hospital Zurich.
1999 - 2001 Assistant Physician, Department of Internal Medicine, Cantonal Hospital Baden.
1997 - 1998 Assistant Physician, Department of General Surgery, Cantonal Hospital Sursee.
1996 State Exam.
1990 - 1996 Medical studies, University of Basel.
Clinical and Research Interests
Acute coronary syndrome.
Improving the accuracy of early diagnostics.
Percutaneous treatment of aortic stenosis.
Evaluation of new catheters and prostheses.
Research devoted to the postoperative inflammatory reactions.
Quality control of clinical results of treatment (based on data from the national registry).
Memberships in Professional Societies
Swiss Medical Association (FMH).
Swiss Society of Cardiology.
Swiss Working Group on Interventional Cardiology and Acute Coronary Syndromes.
Zurich Society of Cardiology.
TAVI Swiss Registry Steering Committee.
Photo of the doctor: (c) Merian Iselin Klinik für Orthopädie und Chirurgie
---
About hospital
Accommodation in hospital
Atrioventricular nodal reentrant tachycardia
Program [Description]
Radiofrequency ablation (RFA) to treat atrioventricular nodal reentrant tachycardia
Hospital: Merian Iselin Clinic Basel
Type:
Duration:
Price:
date_range
There are 91 atrioventricular nodal reentrant tachycardia treatment hospitals on Booking Health website
Show all clinics