Outpatient Rehabilitation Clinic Berlin
Department of Outpatient Orthopedic Rehabilitation (

414299

)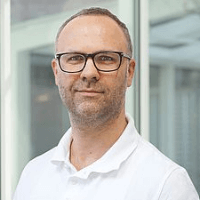 Dr. med.
Thomas Lang
Specialized in: outpatient orthopedic rehabilitation
About the Department of Outpatient Orthopedic Rehabilitation at Outpatient Rehabilitation Clinic Berlin
The Department of Outpatient Orthopedic Rehabilitation at the Outpatient Rehabilitation Clinic Berlin offers the full range of services in this field. It uses effective rehabilitation measures and therapeutic procedures to achieve sustainable results. An outpatient rehabilitation is absolutely equivalent to an inpatient one. Its duration is several weeks and it is based on 5-6 daily therapy sessions. Depending on the indications and examination results, each patient receives an individually developed rehabilitation plan. The Chief Physician of the department is Dr. med. Thomas Lang.
Indications for outpatient orthopedic rehabilitation:
Acute and chronic spinal pain syndrome
Degenerative diseases and traumatic spinal injuries
Conditions after surgical treatment of diseases of the spine and intervertebral discs
Systemic diseases of the musculoskeletal system
Arthrosis and other chronic joint diseases
Conditions after joint replacement surgery
Postoperative care after surgical interventions, for example, after corrective osteotomy
Follow-up treatment after amputation
Osteoporosis treatment
Injuries of the spine, extremities, pelvis, shoulder girdle
Other diseases and pathological conditions
The department's service range includes:
Specialized patient care and monitoring of the rehabilitation process
Therapeutic physical training and kinesiotherapy
Physiotherapy
Ergotherapy
Relaxation methods
Social counseling
Recommendations on nutrition (including classes in the kitchen)
Psychological counseling and psychotherapy
Seminars
Restoration of self-service skills
Assistance in professional reintegration
Other services
Photo of the doctor: (c) ZAR Zentrum für ambulante Rehabilitation
Department of Outpatient Orthopedic Rehabilitation.
Outpatient Rehabilitation Clinic Berlin:

Request more information now.
We will be happy to answer all your questions.
---