Outpatient Rehabilitation Clinic Frankfurt am Main
Department of Outpatient Orthopedic Rehabilitation (

579894

)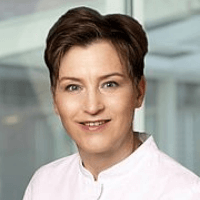 Dr. med.
Judith Jacoby
Specialized in: outpatient orthopedic rehabilitation
About the Department of Outpatient Orthopedic Rehabilitation at Outpatient Rehabilitation Clinic Frankfurt am Main
The Department of Outpatient Orthopedic Rehabilitation at the Outpatient Rehabilitation Clinic Frankfurt am Main offers the full range of medical services in this field. The department specializes in the rehabilitation of patients who have suffered severe injuries, chronic diseases of the musculoskeletal system. The duration of a standard rehabilitation program is several weeks, with a daily number of 5-6 therapy sessions. A suitable treatment program is appointed only after the patient's comprehensive examination and analysis of his clinical situation, individual needs and wishes. The physicians of the department have in their arsenal many effective methods aimed at achieving optimal and long-term results. The department is headed by Dr. med. Judith Jacoby.
A particularly important role is played by the professional rehabilitation of the patient in order to ensure the full-fledged working activity in the future. The therapy depends on the patient's specific professional requirements and problems. Each patient receives an individual rehabilitation strategy that will allow for the achievement of the best results. The rehabilitation takes place in a specially equipped workplace, under the strict supervision of an experienced specialist.
The outpatient rehabilitation is indicated for patients with the following orthopedic diseases:
Acute and chronic spinal diseases
Degenerative changes in the structure of the spine and spinal pathologies due to accidents
Surgical treatment of diseases of the spine and intervertebral discs
Systemic diseases of the musculoskeletal system
Arthrosis and other chronic joint diseases
Medical care for patients after joint replacement surgery
Postoperative care after corrective osteotomy
Follow-up care after limb amputation
Osteoporosis treatment
Consequences of injuries of the spine, pelvis, shoulder girdle
Other clinical situations
The department's therapeutic options include:
Professional medical care and supervision throughout the rehabilitation period
Therapeutic physical training and kinesiotherapy
Physiotherapy
Ergotherapy
Relaxation methods
Social counseling
Nutrition counseling (including special cooking classes to acquire cooking skills for proper nutrition)
Psychological counseling
Special seminars
Assistance in professional reintegration
Other medical services
Photo of the doctor: (с) ZAR Frankfurt Zentrum für ambulante Rehabilitation
Department of Outpatient Orthopedic Rehabilitation.
Outpatient Rehabilitation Clinic Frankfurt am Main:

Request more information now.
We will be happy to answer all your questions.
---
Certificates