Outpatient Rehabilitation Clinic Frankfurt am Main
Department of Outpatient of Neurological Rehabilitation (

579897

)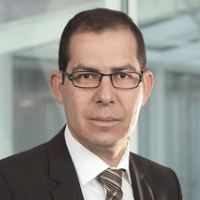 PD Dr. med.
Mohamed Al-Khaled
Specialized in: outpatient neurological rehabilitation
About the department
The Department of Outpatient Neurological Rehabilitation at the Outpatient Rehabilitation Clinic Frankfurt am Main offers the full range of services in this field. The priority task of the department's medical team is to provide comprehensive rehabilitation care for patients with serious pathological changes in the nervous system. The key to a successful rehabilitation outcome is its earliest possible start. On average, a standard rehabilitation program lasts several weeks and includes 5-6 daily therapy sessions. The concept of recovery is developed individually, taking into account the patient's specific clinical indications and needs. The exceptional competence of doctors and the availability of modern medical infrastructure ensure an optimal result, which in its turn improves the patient's quality of life. The Chief Physician of the department is PD Dr. med. Mohamed Al-Khaled.
A feature of the department is a rich experience in the field of professional rehabilitation. For this purpose, the doctors use a specially equipped workplace, in which the patient has the opportunity to gradually restore lost professional skills. The therapy is carried out under the close supervision of a specialized expert who adjusts the course of rehabilitation depending on the patient's success. Thus, in combination with other rehabilitation measures, it is possible to achieve complete recovery of the patient even in extremely difficult clinical cases.
Friendly attitude and respect for the patient are also valuable. The specialists who work with him are always ready to answer all questions of interest, support morally and motivate the patient to a positive result of rehabilitation.
The neurological rehabilitation is indicated for patients in the following clinical situations:
Stroke or cerebral hemorrhage
Hypoxic brain injury
Traumatic brain injuries
States after brain or spinal cord surgery
Injuries and diseases of the spinal cord or peripheral nerves
Polyneuropathies
Attention, concentration and memory disorders, visual field defects
Neurodegenerative diseases (for example, Parkinson's disease)
Multiple sclerosis
Speech and swallowing disorders
Neuromuscular diseases
Congenital disorders of the nervous system
Chronic pains, for example, headache, neuralgia, complex regional pain syndrome
Other neurological pathologies
The therapeutic range of the department includes the following options:
Professional medical care and supervision throughout the rehabilitation period
Speech therapy
Physiotherapy
Ergotherapy
Neurological diagnostics
Psychological counseling
Relaxation methods
Nutrition counseling (including special cooking classes to acquire cooking skills for proper nutrition)
Social counseling and assistance in professional
Special seminars
Other medical services
Photo of the doctor: (с) ZAR Frankfurt Zentrum für ambulante Rehabilitation
Department of Outpatient of Neurological Rehabilitation.
Outpatient Rehabilitation Clinic Frankfurt am Main:

Request more information now.
We will be happy to answer all your questions.
---
Certificates