Preventicum Diagnostic Сlinic Essen
Department of Cardiology, Internal Medicine and Preventive Diagnostics (

114135

)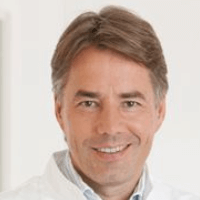 Prof. Dr. med.
Dietrich Baumgart
Specialized in: cardiology, internal medicine, preventive diagnostics
About the department
The Department of Cardiology, Internal Medicine and Preventive Diagnostics at the Preventicum Diagnostic Clinic specializes in high quality diagnostics and treatment of a wide range of cardiovascular diseases and diseases of the internal organs. It is headed by Prof. Dr. med. Dietrich Baumgart.
Using modern medical technologies and deep expertise, the specialists of the clinic create a comprehensive picture of the patient's health status, determine the risks that can lead to cardiological and internal diseases. Then they develop a tailored interdisciplinary treatment concept for each patient.
The treatment of patients is carried out in accordance with the latest diagnostic and therapeutic standards. The doctors of the department mostly have to deal with such common diseases as coronary artery disease, angina pectoris, high blood pressure, atrial fibrillation, arrhythmia, valve diseases, heart failure, atherosclerosis and aortic diseases, sleep apnea syndrome, shortness of breath, dizziness, unclear chest pain and occlusive arterial disease ("window-shopping legs", "smoker's leg"), abdominal pain and digestive problems, metabolic disorders, e.g., high blood sugar and cholesterol levels.
The range of medical services of the department includes:
Monitoring of the course of the disease
Heart CT scan with a low level of radiation exposure in the examination of coronary vessels and / or the detection of the index of coronary artery calcification
Cardiac MRI adenosine stress test
Heart MRI
Angiography (imaging of the vessels of the neck, chest, abdomen and legs) with MRI
Echocardiography
Transesophageal ultrasound
Functional diagnostics of the veins and arteries
Telemedicine (with devices and services convenient for the patient)
Arteriosclerosis / plaques stabilization
Invasive procedures (cardiac catheterization, stenting)
Fatty liver test
Food intolerance tests
Stool analysis to identify problems with digestion and irritable bowel syndrome
Thyroid diagnosis
Breathing tests (fructose / lactose)
Imaging diagnostics (CT, MRI)
Curriculum vitae
Prof. Dr. med. Dietrich Baumgart is an internationally recognized therapist and cardiologist. Previously, he headed the Cardiac Catheterization Laboratory at the University Hospital Essen. Prof. Baumgart is the author of numerous specialized publications and specialized books. Also, he is an active reviewer.
He is a member of the European Society of Cardiology and the Scientific Advisory Board (IPO) the International Organization for Preventive Examination. He speaks at numerous national and international congresses and symposiums, conducts special lectures on cardiology and preventive medicine.
Photo of the doctor: (c) Preventicum Facharztzentrum
Department of Cardiology, Internal Medicine and Preventive Diagnostics.
Preventicum Diagnostic Сlinic Essen:

Request more information now.
We will be happy to answer all your questions.
---