Primus Super Speciality Hospital New Delhi
Department of Adult and Pediatric Oncology (

303029

)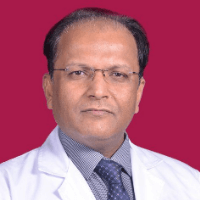 Dr. med.
Manav Rakshak
Specialized in: adult and pediatric oncology
About the Department of Adult and Pediatric Oncology at Primus Super Speciality Hospital New Delhi
The Department of Adult and Pediatric Oncology at the Primus Super Speciality Hospital in New Delhi offers the full range of modern services in the diagnostics and treatment of oncological diseases. It performs all types of cancer surgeries, including radical operations, complex reconstructions, organ-preservation surgeries and minimally invasive interventions. The department has state-of-the-art infrastructure, namely a well-equipped operating room, intensive care unit and postoperative recovery unit. The specialists of the department deal with the treatment of both adults and children. The Chief Physician of the department is Dr. med. Manav Rakshak.
The department provides not only surgical treatment, but also chemotherapy, as well as radiation therapy. Chemotherapy drugs are prepared in a separately designated area under laminar air flow to ensure safety of patients and medical staff. Chemotherapy is often prescribed along with surgery, radiation therapy or biological therapy. The specialists also have at their disposal modern and highly efficient Blood Bank offering its services round the clock.
The department also offers non-invasive cancer treatment with the use of High-Intensity Focused Ultrasound (HIFU). The HIFU technology does not cause damage to the surrounding tissue and organs, as well as eliminates the need for incisions, infusions and general anesthesia. Thus, this treatment method allows the patient to return to his normal life within a shorter time period.
In addition, the department regularly holds interdisciplinary tumor boards, during which doctors discuss the individual patient cases and develop optimal treatment plans.
The department's service range includes the diagnostics and treatment of the following diseases:
Head and neck tumors

Laryngectomy (removal of the larynx with a subsequent reconstruction)
Parotidectomy (removal of the parotid gland)
Maxillectomy (removal of the upper jaw with a subsequent reconstruction)
Thyroidectomy (removal of the thyroid gland)
Radical neck dissection
Complex flap reconstructions

Urological cancers

Radical nephrectomy
Kidney-preserving surgery
Radical cystectomy
Bladder-preserving surgery
Radical prostatectomy
Total and partial penectomy
Orchidectomy

Gastrointestinal cancer

Surgeries to treat esophageal cancer
Surgeries to treat stomach cancer
Whipple's procedure
Surgeries to treat liver cancer
Surgeries to treat gallbladder and pancreatic cancer
Surgeries to treat colon, rectal and small bowel cancers

Cancer of the female genital organs

Surgeries to treat cervical cancer
Hysterectomy
Radical hysterectomy
Radical vulvectomy

Breast cancer

Breast-preserving surgeries in breast cancer
Radical and modified radical mastectomies
Immediate and delayed breast reconstruction
Breast reconstruction using silicone expanders and implants, etc.
Other therapeutic options for breast cancer treatment

Surgeries to treat bone and soft tissue sarcomas
Lung cancer surgery
Video-assisted thoracic surgery
Diagnostics and treatment of other diseases
Curriculum vitae of Dr. med. Manav Rakshak
Dr. med. Manav Rakshak has over 20 years of experience in oncology. After a three-year internship at the renowned Institute Rotary Cancer Hospital (IRCH) in New Delhi, he was engaged in private practice. He took an active part in tumor boards, particularly, on gynecologic oncology, head and neck tumors, urological cancers.
Of particular interest to Dr. Rakshak are chemotherapy on an outpatient basis and intensive care in cancers.
Photo of the doctor: (c) Primus Hospital
Department of Adult and Pediatric Oncology.
Primus Super Speciality Hospital New Delhi:

Request more information now.
We will be happy to answer all your questions.
---