Elbow bursitis diagnosis (program ID:

463574

)
Primus Super Speciality Hospital New Delhi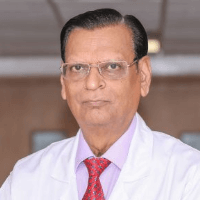 Head Physician
Prof. Dr. med.
Surya Bhan
Specialized in: orthopedics
Department of Orthopedics
Program includes:
Initial presentation in the clinic
clinical history taking
review of medical records
physical examination
laboratory tests:

complete blood count
biochemical blood test
inflammation markers (CRP, ESR)
blood coagulation analysis (aPTT, PT, INR)

x-ray of the elbow joint
MRI of the elbow joint (if clinically indicated, additional cost is 1200 €)
puncture of the joint capsule with microbiological
and bacteriological analysis (if clinically indicated, additional cost is 1800 €)
nursing services
services of all leading experts
explanation of individual treatment plan
Required documents
Medical records
Ultrasound scan (if available)
Service
Price:
Type of program :
Expected duration of the program:
You may also book

Price:
About the department
The Department of Orthopedics at the Primus Super Speciality Hospital New Delhi offers the full range of medical services in this field. The department's doctors specialize in the treatment of orthopedic diseases, injuries and congenital pathologies of all degrees of severity. An important focus of the department's activities is the treatment of osteoporosis. To restore the health of the musculoskeletal system, the department's medical team uses the most modern techniques, drug treatment and prosthetics. In addition, the department provides top-class comprehensive rehabilitation. The department is headed by Prof. Dr. med. Surya Bhan.
Joint replacement surgery is one of the main department's activities. In severe arthritis or trauma of the knee or hip joints, normal daily activities, such as walking or climbing stairs, can be extremely painful. To restore mobility, patients require total or partial hip or knee endoprosthetics. The department's specialists prefer minimally invasive surgical interventions, which help to reduce the hospitalization period, reduce pain, as well as accelerate recovery of the patient.
The department's field of ​​competence includes the treatment of simple and complex fractures and injuries. To ensure optimal medical care, the doctors have all the very latest and classic devices, including computer-assisted navigation system, high-resolution cameras, arthroscopic equipment for technically complex procedures and the bone tissue bank for the reconstruction in especially difficult cases (revision arthroplasty, bone deficiency after tumor resection, etc.). The department's specialists have extensive experience in operations on the knee, hip, shoulder, ankle, elbow joints, as well as on the hand.
In addition, the department is proud of its rich experience and successful results in the diagnostics, treatment and prevention of osteoporosis. This disease is a disorders of bone metabolism, in which it becomes more fragile, and the risk of developing a fracture increases.
The therapeutic offer is complemented by medical care for patients with sports injuries of bones, muscles, joints and ligaments, including bone fractures, strain of the muscles, ligaments and tendons.
The main clinical focuses of the department include:
Diagnostics and treatment of arthritis
Diagnostics and treatment of metabolic bone diseases, including osteoporosis and osteopenia
Diagnostics and treatment of Paget's disease
Diagnostics and treatment of renal osteodystrophy
Total and partial knee replacement surgery
Total and partial hip replacement surgery
Minimally invasive hip replacement surgery
Hand surgery
Microsurgery
Diagnostics and treatment of bone and periarticular soft tissue tumors
Foot and ankle surgery
Shoulder surgery
Densitometry (assessment of bone mineral density)
Extracorporeal shock wave therapy for non-invasive treatment of tendonitis
Other medical services
Curriculum vitae
Prof. Dr. med. Surya Bhan heads the Department of Orthopedics at the Primus Super Speciality Hospital New Delhi. The clinical experience of the doctor is more than 35 years. He also trains medical students in orthopedic surgery. Dr. Bhan is well-known throughout the world for his professional skills in the field of joint replacement surgery. During his clinical practice, he performed more than 20,000 such surgical interventions. He provided orthopedic treatment to the President, Vice-President and three Prime Ministers of India. He also initiated the foundation of the first specialized Fresh Frozen Bone Bank in India at the All India Institute of Medical Sciences, New Delhi. He created the second similar bone tissue bank at the Primus Super Speciality Hospital New Delhi.
Qualifications
1967 Bachelor of Medicine and Bachelor of Surgery, University of Lucknow.
1970 Specialization in Orthopedics, University of Kanpur.
1971 Master in Orthopedics, University of Kanpur.
1976 Royal College of Surgeons, Edinburgh, UK.
Memberships in Professional Societies
American Academy of Orthopedic Surgeons.
Indian Orthopedic Association.
Indian Society of Biomechanics.
Indian Society Of Hip And Knee Surgeons.
President of the Orthopedic Research Society.
Member of the Working Group created by the Ministry of Health and Family Welfare.
Photo of the doctor: (c) Primus Hospital
---
About hospital
Accommodation in hospital
Program [Description]
Elbow bursitis diagnosis
Hospital: Primus Super Speciality Hospital New Delhi
Type:
Duration:
Price:
date_range
There are 56 elbow bursitis diagnostic hospitals on Booking Health website
Show all clinics