Surgical treatment: microsurgical removal of spinal cord malignant tumor (program ID:

322929

)
Primus Super Speciality Hospital New Delhi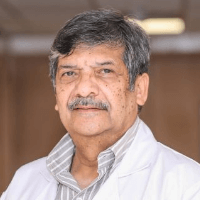 Head Physician
Prof. Dr. med.
Arvind Jayaswal
Specialized in: adult and pediatric spinal surgery
Department of Adult and Pediatric Spinal Surgery
Program includes:
Initial presentation in the clinic
clinical history taking
review of medical records
physical examination
laboratory tests:

complete blood count
general urine analysis
biochemical analysis of blood
inflammation indicators (CRP, ESR)
indicators blood coagulation

neurological examination
functionality x-ray
CT/MRI scan
neuropsychological tests (on indications):

ENMG (electroneuromyography)
SEPs (somatosensory evoked potentials)

preoperative care
tumor resection under neuronavigation
histologically and immunohistochemically
examination of the remote tissues
postoperative control
symptomatic treatment
control examinations
the cost of essential medicines and materials
nursing services
full hospital accommodation
developing of further guidance by specialists
in oncology and radiotherapy
Service
Price:
Type of program :
Expected duration of the program:
You may also book

Price:
About the department
The Department of Adult and Pediatric Spinal Surgery at the Primus Super Speciality Hospital New Delhi provides the full service range for the diagnostics, conservative and surgical treatment of spinal diseases. To provide comprehensive medical care and rehabilitation, the department has the best specialists, advanced medical equipment and infrastructure. If surgical treatment is necessary, minimally invasive surgery is preferred. The Chief Physician of the department is Prof. Dr. med. Arvind Jayaswal.
The department's doctors apply a wide range of minimally invasive diagnostic and therapeutic procedures, for example, spinal puncture, nerve root block, facet joint block, and other various CT-guided procedures. In addition, the department's surgeons have extensive experience in minimally invasive spinal surgery, for example, they successfully perform vertebroplasty and kyphoplasty in spinal fractures, minimally invasive spinal fusion, percutaneous transpedicular fixation, microscopic/endoscopic discectomy and microscopic decompression in lumbar spine pathologies. The spectrum is complemented by other extensive surgical interventions on the spine, for example, intervertebral disc replacement, treatment of cervical myelopathy, correction of spinal deformities (scoliosis and kyphosis), treatment of spinal fractures, interventions to remove spinal tumors, etc. During the surgical treatment, the doctors widely apply the real-time intraoperative neuromonitoring. This is the very latest technology, which helps to reduce the risk of postoperative paralysis and nerve damage during complex spinal operations.
The experienced physiotherapists of the department offer many exercise programs for the treatment or rehabilitation. The department is one of the few centers throughout the country, which provides the full service range for the correction of spinal deformities in scoliosis and kyphosis in patients of all age groups. The treatment methods range from conventional scoliosis correction procedures for adolescent idiopathic scoliosis/congenital scoliosis to the very latest therapies, such as the use of a magnetic rod for the treatment of scoliosis at the initial stages (in young children).
The department's range of medical services includes:
Spinal fracture fixation

Minimally invasive/open surgical techniques
Vertebroplasty
Kyphoplasty

Comprehensive treatment of back pains

Open/minimally invasive fusion and non-fusion surgeries
Microdiscectomy/decompression
Spinal blocks

Complex spinal deformity correction (under continuous neuromonitoring)

Kyphosis correction in adults and children
Scoliosis correction in adults and children
Innovative fusionless scoliosis correction (magnetic growing rods and conventional growing rods – SHILLA/VEPTR)

Treatment of spinal tumors and infectious spinal lesions

Metastatic/primary spinal tumors (open and minimally invasive surgical techniques)
En-bloc resection of large tumor and complex reconstruction

Other medical services
Curriculum vitae
Prof. Dr. med. Arvind Jayaswal is a well-known orthopedic surgeon and Head of the Department of Adult and Pediatric Spinal Surgery at the Primus Super Speciality Hospital New Delhi. He received his Bachelor of Medicine and Bachelor of Surgery at the Rajendra Institute of Medical Sciences in New Delhi. He became Master of Orthopedic Surgery at the All India Institute of Medical Sciences (AIIMS). He is an internationally recognized specialist in the treatment of all types of diseases of the spine and back, specialized spinal operations to correct deformities, treatment of degenerative spinal diseases, injuries and tumors. The doctor is also one of the pioneers in the field of correction of severe spinal deformities, minimally invasive spinal surgery, endoscopic intervertebral disc operations, minimally invasive fixation of the lumbar spine using intercorporeal spinal fusion, thoracoscopic decompression with spinal fixation and minimally invasive correction. The doctor is distinguished by outstanding achievements and experience in the field of correction of spinal deformities in young children. In addition, he was the first who used magnetically controlled growing rods for the correction of scoliosis at the initial stages.
Memberships in Professional Societies
President of the Association of Spine Surgeons of India (ASSI).
President of the Minimally Invasive Spine Surgeons of India (MISSI).
Research Fellow, Scoliosis Research Society (SRS).
Photo of the doctor: (c) Primus Hospital
---
About hospital
Accommodation in hospital
Spinal cord malignant tumor
Price:
Program [Description]
Surgical treatment: microsurgical removal of spinal cord malignant tumor
Hospital: Primus Super Speciality Hospital New Delhi
Type:
access_time Duration:
date_range
There are 90 spinal cord malignant tumor treatment hospitals on Booking Health website
Show all clinics